Ryanair's Derided Charleroi Hub Keeps Brussels Connected
by
Airport located an hour from capital becomes focus for flights

Main Zaventem hub shut until Saturday at least after attacks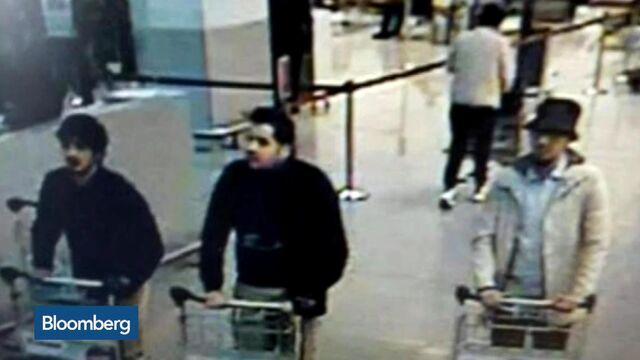 Ryanair Holdings Plc, the biggest foreign carrier at Brussels Zaventem airport where 11 people were killed by terrorist bombs Tuesday, is still operating to the Belgian capital thanks to its choice of a far-flung airfield as a gateway to the area almost two decades ago.
Ryanair's base at Charleroi, whose official name of Brussels South has been derided because of the airport's location 35 miles or an hour's bus ride from the city, is still open and has become a focus for flights scheduled for Zaventem, which will remain closed until Saturday at least.

Europe's biggest discount carrier is maintaining services even as Brussels Airlines, the top operator at Zaventem, struggles to access enough capacity to handle its 250 takeoffs and landings a day. Spokeswoman Kim Daenen said the company is looking at the possibility of basing planes at two foreign airports.
Ryanair already operates about 50 return flights a day to Charleroi and will divert 20 more there while Zaventem is shut, according to spokesman Robin Kiely. Investigators are still poring over the wrecked departure hall at Belgium's main hub, which remains a crime scene, according to the airport's website.
4th-Ranked Base
Charleroi has been a Ryanair destination since 1997 and a hub for 15 years, ranking as the fourth-biggest of its 82 bases, with 12 planes and a passenger tally of 5.5 million in 2015. The destination was one of a number, together with the likes of Frankfurt Hahn and Hamburg Lubeck, that attracted criticism over its distance from the city Ryanair said it served.
The carrier today operates to almost 80 destinations from Charleroi, mostly in southern Europe and the Mediterranean, together with locations in the U.K., Scandinavia and Eastern Europe.
Ryanair made Zaventem a base only in 2014 as part of a push to attract more business flyers by serving major city airports, and locates four aircraft there carrying about 3 million people annually.
Wizz, TUI
Overall, Charleroi attracted 6.96 million passengers in 2015, compared with 23.5 million at Zaventem. In addition to Ryanair, the smaller airport is also served by Budapest-based Wizz Air Holdings Plc -- Eastern Europe's biggest low-cost carrier -- Turkish discount specialist Pegasus Airlines, and holiday companies TUI AG and Thomas Cook Group Plc.
TUI's Belgian arm Jetairfly will also divert flights that had been scheduled for Zaventem to Charleroi, as well as its Ostend base, a spokeswoman said. An official at Zaventem said that Thomas Cook may switch some services to other Belgian cities.
Among Ryanair's closest competitors, EasyJet Plc, British Airways, Air France-KLM Group and Deutsche Lufthansa AG all said they had no flights to either Brussels airport Wednesday.
French Shift
EasyJet, which typically has 10 daily return services to Zaventem, said that from Thursday those planes were operate into Lille in northern France, where they'll be able to tap good rail connections with the Belgian capital.
Brussels Airlines said it's sending five empty aircraft to Africa destinations with the aim of bringing back passengers stranded there via other airports, as well as exploring options for restoring some European flights, possibly with the help of 45 percent shareholder Lufthansa.
Ryanair said people booked to travel to or from Zaventem will be able to fly via the south-Belgium base free of charge under a rule that allows for alternative routings for the two weeks following any cancellation. Passengers with other carriers should also qualify for refunds, booking amendments or compensation for travel from other airports.
A statement on the Brussels Zaventem website said that the ongoing forensic investigation means that it has had no access to the building and that it has "therefore impossible for us to assess the damage." Cargo flights should be able to resume shortly, it said.
Before it's here, it's on the Bloomberg Terminal.
LEARN MORE