Goldfarb Exits as Sequoia's Valeant Debacle Caps 45-Year Career
by , , and
Ruane Cunniff CEO helped build fund's strong long-term record

David Poppe takes helm at the investment firm and mutual fund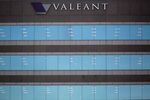 It could not have been the way Robert Goldfarb hoped to finish his career.
Goldfarb, 71, chief executive officer of Ruane, Cunniff & Goldfarb and co-manager of the Sequoia Fund, is retiring after the firm's investment in troubled drugmaker Valeant Pharmaceuticals International Inc. marred the reputation of a mutual fund that traces its roots to billionaire Warren Buffett. David Poppe, who co-managed the $5.6 billion fund with Goldfarb, will become the lead manager and replace him as the company's CEO, the firm said Wednesday in a letter to shareholders.
"Valeant is the biggest mistake this fund ever made," Steven Roge, a financial adviser with R.W. Roge & Co. who has owned Sequoia since 1999, said in an interview. "There haven't been that many."
The move ends a 45-year investing career during which Goldfarb helped oversee one of the mutual fund industry's best long-term records before the once-hot Valeant started plunging in August. The company said in its letter that it will take a "more collaborative approach" under Poppe that will give greater responsibility to senior analysts.
"While we have beaten the market over the past decade, through the end of 2015, our investment in Valeant has diminished a record that we have built over two generations and in which we take great pride," the firm said in the letter signed by Poppe and the Ruane Cunniff team.
'Reflection' Period
Ruane Cunniff said it would learn from the debacle.
"While our commitment to a value-oriented strategy grounded in extensive primary research remains as strong as ever, the Valeant experience has spurred a period of reflection," the firm wrote.
Roger Lowenstein, chairman of Sequoia, said in a telephone interview that he has confidence in Poppe and his team. "I think he is going to be unafraid to buy stocks that are unpopular and he's going to be unafraid to sell," he said.
Asked if Goldfarb was responsible for the Valeant stake, Lowenstein said, "He was CEO of the firm. Bob was responsible."
Attempts to reach Goldfarb for comment weren't successful.
Performance Reversal
Sequoia -- which returned 14 percent a year from 1970 through the end of 2015, beating the 11 percent annualized gains of the Standard & Poor's 500 Index -- has dropped to the bottom of the pack this year as a result of Valeant's collapse. The fund, down 11 percent in 2016, trails more than 99 percent of peers after lagging behind 89 percent last year, according to data compiled by Bloomberg.
Ruane Cunniff was Valeant's largest shareholder as of Dec. 31, with 10 percent of the outstanding shares, Bloomberg data show.
Valeant, which had grown to 29 percent of Sequoia's portfolio at the middle of last year as the stock soared, has been targeted by short sellers who say the drugmaker used a mail-order pharmacy to inflate sales figures. Charles Munger, Buffett's longtime business partner, bashed Valeant in a November interview, calling its strategy of acquiring rights to treatments and boosting prices unsustainable and "deeply wrong."
 
Things got worse last week, when Valeant lost more than half its market value in one day after the company cut its 2016 forecast, reported a weak fourth quarter and said it risked breaching some of its debt agreements if it can't file its annual report in time. The shares have lost 87 percent since reaching a closing high of $262.52 in August.
Sequoia was co-founded in 1970 by Richard Cunniff and William Ruane, a friend of Buffett's from the time the two studied together under legendary value investor Benjamin Graham at Columbia University in 1951. When Buffett shut down his partnership in 1969 to concentrate on Berkshire Hathaway Inc., he recommended clients invest with Ruane.
Best Ideas
Like Buffett, the fund's managers believed in running a concentrated portfolio. Ruane had said that "your six best ideas in life are going to do the best," Poppe said at a May 2011 investor day for the firm. For many years, Berkshire Hathaway was the fund's largest holding, representing 35 percent of assets at the end of 2004, according to fund reports.
Valeant, which the fund first bought in 2010, also grew to be large position, and performed spectacularly for years. The fund bought most of its stake in the third quarter of 2010 when the price averaged $23 a share, according to data compiled by Bloomberg.
Sequoia's managers regularly defended the investment, and in a 2014 year-end letter to shareholders wrote that Valeant was "brilliantly managed by Mike Pearson and his team." They added, "And yes we are comfortable with the size of our holding."
Pearson resigned earlier this week and Valeant said it would look for a replacement.
Goldfarb became CEO of Ruane Cunniff in 1998 and he and Ruane were co-managers of the fund until Ruane's death in 2005. He is a graduate of Yale University and earned a master's degree from Harvard Business School.
Richard Pechter, a friend of of Goldfarb's from Yale who spent his career on Wall Street and as a longtime Ruane Cunniff investor, called Goldfarb "the hardest-working person" he's ever met.
"He is one of the most outstanding investors of my generation," Pechter said.
Before it's here, it's on the Bloomberg Terminal.
LEARN MORE