Rizal Bank CEO Goes on Leave to Clear Name in $81 Million Heist
by
Bank chairman Helen Dee will take over in president's absence

Tan will have `more time to address baseless personal attacks'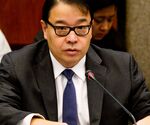 Rizal Commercial Banking Corp., the Philippine lender whose employees are suspected of helping launder about $81 million stolen from Bangladesh's central bank, said it accepted President Lorenzo Tan's offer to go on leave.
Tan volunteered to step back "to allow him to focus on clearing his name in the money laundering issue a board committee is investigating," Rizal Bank said in a statement. Chairwoman Helen Dee will take over in Tan's absence, the bank said.
Philippine lawmakers last week started an investigation into how the stolen funds ended up in four Rizal Bank accounts before the cash was allegedly laundered in casinos. Bangko Sentral ng Pilipinas said it will hold accountable any bank or banker found responsible or remiss in their duties.
Central to the probe is former RCBC branch manager Maia Santos Deguito, who is accused of allowing the funds to be transferred despite requests from Bangladesh to halt the transactions. At a public hearing on March 17, Deguito declined to discuss the transfers to avoid self-incrimination. Her lawyer Ferdinand Topacio said Deguito was following the orders of her superiors.
Deguito also testified after a closed-door meeting with lawmakers that Tan knows several people who may have been part of the scheme.
'No Evidence'
"So far, no evidence has been presented against Tan linking him to the issue and the board has taken cognizance of the statement of Deguito before the Senate that Tan had nothing to do with the opening of the accounts that received" the funds, Rizal Bank said.
Tan's leave will "avoid any perception of any undue influence" in the internal investigation and will "give him more time to address baseless personal attacks against him," his lawyer Francis Lim said in a statement.
Earlier this month, Tan said he condemned any suggestion that top management knew of or tolerated the alleged money laundering.
Hackers stole $101 million from Bangladesh's central bank last month in an attempted heist of nearly $1 billion. A Sri Lanka bank returned $20 million, but most of the funds sent to the Philippines are now missing.
Before it's here, it's on the Bloomberg Terminal.
LEARN MORE