Pimco Lowers Global Outlook Seeing Slower Growth in U.S., Europe
by
Firm cuts 2016 U.S. economic forecast quarter percentage point

China's yuan remains the `biggest risk for the global economy'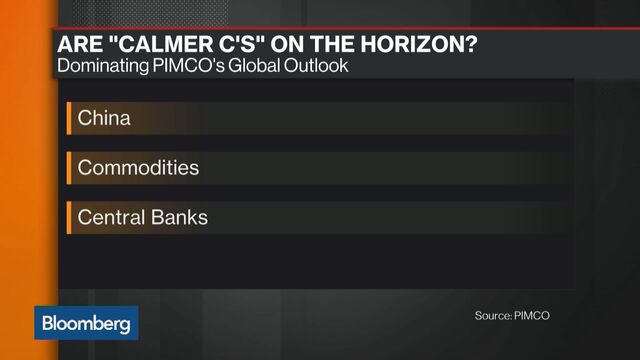 Pacific Investment Management Co. reduced its outlook for global growth in 2016 as central-bank measures to stimulate the economy become increasingly ineffective.
Gross domestic product will expand globally 2 percent to 2.5 percent in 2016, down from a December forecast of 2.6 percent, according to a report Wednesday written by Joachim Fels, managing director and global economic adviser, and Andrew Balls, Pimco's chief investment officer for global fixed income. The global economy grew 2.6 percent last year and 2.8 percent in 2014.
"Wherever one looks around the globe, nominal and real GDP growth and, therefore, interest rates are likely to stay well below historical norms," Fels and Balls said in the report.
Pimco reduced its U.S. outlook to a range of 1.75 percent to 2.25 percent, down a quarter percentage point from December. The median forecast for U.S. growth this year is 2.1 percent, according to a Bloomberg survey of 78 analysts.
Pimco, which managed $1.43 trillion as of Dec. 31, lowered growth forecasts for the U.K., the euro region, Japan and the BRIM group -- Brazil, Russia, India and Mexico. The outlook for China remained unchanged with a growth range of 5.5 percent to 6.5 percent. The world's second-largest economy expanded 6.9 percent last year and 7.3 percent in 2014.
Calming Signs
Some of the biggest drivers of global uncertainty have shown signs of calming even as growth prospects cool, according to Fels and Balls, whose report was based on the firm's quarterly cyclical economic forum.
Oil prices climbed from February lows and may reach $50 a barrel amid "higher demand sparked by lower prices and, more importantly, ongoing supply rebalancing." Brent crude closed at $41.79 a barrel on Tuesday, up from a year-to-date low of $27.88 on Jan. 20
Central banks in Europe and Japan appear to be harboring doubts about negative interest rates after "discovering their dark sides," according to Pimco, as they strive to stimulate lagging economies. The Chinese yuan, "by far the single biggest risk for the global economy and markets this year," is expected to depreciate 7 percent against the dollar.
"To be sure, our base case is for a more benign muddling-through, where the CNY depreciates gradually and mostly orderly," Fels and Balls wrote.
The U.S. presidential election, Britain's possible exit from the European Union, Brazil's political instability and rising populism and the refugee crisis in Europe are all contributing to a climate of uncertainty that has "the potential to dent consumer confidence and corporate animal spirits further," the report said. "The good news? No recession!"
Before it's here, it's on the Bloomberg Terminal.
LEARN MORE