Murdoch May Get Boost in Australia TV Battle With Netflix
by and
News Corp. and Telstra said to discuss new pay-TV structure

Foxtel faces rising competition from streaming services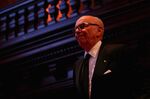 A plan by billionaire Rupert Murdoch's News Corp. to gain control of Australia's largest pay-television provider would give the company a freer hand to accelerate price cuts and buy new shows to compete with Netflix Inc.
News Corp. and Telstra Corp., the joint owners of pay-television service Foxtel, are considering a deal that would reduce Telstra's stake in the venture and take News Corp.'s to 51 percent, according to people with knowledge of the matter. 
As part of the proposed deal, News Corp. would inject its Fox Sports Australia business, a local unit for sports content, into Foxtel and the business may then be publicly listed, said the people, asking not to be identified as the talks are private. The new entity may be valued at as much as A$8 billion ($6.1 billion), the Australian Financial Review has reported, citing unidentified people.
Gaining control would leave News Corp. freer to improve Foxtel's profit margins by adding new programming and seeking agreements with other technology platforms. A deal would give Telstra, Australia's former phone monopoly, a partial exit from a pay-television provider now battling cheaper on-demand streaming services.
News Corp. "may go a bit more aggressive on the pricing front, they may chase content even more aggressively," said Brian Han, an analyst at Morningstar Inc. in Sydney. "They'll have no qualms about getting into bed with other telco players."
Stephen Browning, a spokesman for News Corp. in Sydney, declined to comment on any talks with Telstra or its plans for Foxtel. Michael Zappone, a spokesman for Melbourne-based Telstra, also declined to comment.
Profit Motive
News Corp. and Telstra are discussing a merger of Foxtel and Fox Sports Australia to improve the profitability of Foxtel, said the people familiar with the matter. Foxtel, which airs "Game of Thrones" in Australia, had about 2.8 million subscribers at the end of June, according to a filing.
Telstra may eventually sell most of its stake in Foxtel through an initial public offering, retaining a shareholding of around 19 percent, the people said. Details of the plan are under discussion, and the companies may ultimately decide to keep the current structure, the people said.
News Corp. and Telstra have been equal partners in Foxtel since 2012, when Murdoch's company agreed to pay A$1.94 billion for the James Packer-controlled Consolidated Media Holdings Ltd. That deal also delivered full control of Fox Sports Australia.
Netflix, the largest paid online TV network, launched in Australia last year. The service, which competes with rival streaming offerings from companies including Nine Entertainment Co. and Seven West Media Ltd., starts at A$8.99 a month in Australia. Foxtel's most basic streaming service costs A$25 a month, while a Foxtel pay-television package with every channel usually costs A$134 a month, according to its website.
Foxtel's sales fell 8 percent to $2.7 billion in the year to June 30, News Corp. said in an Aug. 12 filing. Earnings before interest, tax, depreciation and amortization dropped 16 percent to $760 million.
Price Wars
Foxtel is already offering its own cut-price streaming service with no fixed-term contract. A News Corp.-controlled Foxtel could respond faster to the competitive threat from online streaming, said Ivor Ries, a media analyst at Morgans Ltd. in Melbourne.
"It would give them much greater flexibility in decision-making," he said. "That is worth something to a company like News Corp."
For Telstra, the transaction would allow an exit from a "passive investment" over which they have no operational control in order to invest in higher-growth areas, Ries said. The company in January bought local software services company Kloud and in 2014 it agreed to pay $697 million for undersea cable operator Pacnet Ltd.
News Corp., which also comprises newspapers the Wall Street Journal and New York Post and the book publisher HarperCollins, is battling declining print revenue and last month had a record decline after its second-quarter profit missed estimates.
Fox Sports Australia offers U.K. premier league soccer and international cricket, as well as Australian rules football and rugby matches -- among the country's most-watched sports. Adding that kind of content to Foxtel's offerings would make the company more appealing to new investors in an IPO, Morningstar's Han said.
"You do need to sweeten this entity, because right now it will be a hard sell," he said. "By backing some programming muscle into it, it's an easier sell."
Bloomberg LP, the parent of Bloomberg News, competes with News Corp. in providing financial news and data.
Before it's here, it's on the Bloomberg Terminal.
LEARN MORE