London Mayor Says Finance Industry Would Flourish Outside EU
By
Mayor sees `shallow' support for EU among business leaders

Sterling would be `strong and robust' outside 28-nation bloc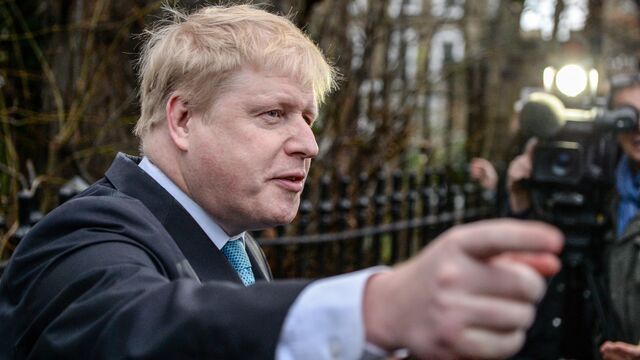 London's finance industry would "flourish mightily" if Britain votes to leave the European Union in the referendum on June 23, Mayor Boris Johnson told lawmakers.
Citing discussions with unidentified senior bankers, Johnson, a leading opponent of Prime Minister David Cameron's campaign to keep the U.K. in the 28-nation bloc, said support for staying in the EU is "shallow" among business leaders.
"What has struck me in private conversations I occasionally have with leading bankers is how finely balanced they believe it to be, and they say they don't think it will do any damage to London's position as a leading financial center," Johnson told the House of Commons Treasury Committee in London on Wednesday. "When you dig into these people's opinions, they're much less strongly held than you might suppose."
Johnson announced he would be backing a so-called Brexit last month in a blow to the premier and the "Remain" campaign. His decision has won him the support of rank-and-file members of the Conservative Party and made him favorite with bookmakers to replace Cameron as prime minister.
The latest opinion poll, by ComRes for ITV News, showed 48 percent of respondents backing "Remain" with 41 percent for "Leave." That's the smallest "Remain" lead in a ComRes telephone poll since last May's general election. More frequent online polling by other organizations has shown leads for both sides.
'Critical Mass'
"I think the City would continue to flourish outside the EU, flourish mightily," Johnson said. "The critical mass is here in London for all sorts of reasons that have nothing to do with the EU."
Johnson cited Lloyds Bank Plc Chairman Norman Blackwell, Royal Bank of Scotland Group Plc director Sheila Noakes and Arbuthnot Banking Group Plc Chairman Henry Angest as examples of "very distinguished bankers in favor of Brexit."
Johnson's comments jar with public warnings against "Brexit" made by executives of banks including Barclays Plc, Goldman Sachs Group Inc. and HSBC Holdings Plc. While some hedge-fund bosses have spoken in favor of withdrawal, the City of London, the local-government body for the financial district, said this month that it would support the U.K. staying in the EU.
The mayor, who compared "scaremongering" about the effects of Brexit to the exaggerated warnings over the "Millennium bug" infecting computers at the start of 2000, dismissed warnings from some forecasters that sterling could plummet if Britain leaves the EU, saying the economy would become more competitive.
'Anti-Democratic System'
The pound "will be as strong and robust as the U.K. economy," he said. "The risks are with remaining in the EU. Why should we remain tethered to this anti-democratic system?"
Johnson said that "there are good political arguments" for staying in the bloc "but I don't think there are good economic arguments."
The mayor was accused of "exaggeration to the point of a misrepresentation" by the committee chairman, fellow Tory lawmaker Andrew Tyrie, as he was asked about allegations he has made about over-regulation by the EU on issues as diverse as coffin sizes, children's party balloons and the composting of tea bags. Some of the stories are "a figment of your imagination," Tyrie told Johnson.
Johnson defended his statements and said he would provide the committee with detailed evidence to back them up. The broader issue that they illustrate is the influence of European regulation on British life and business, he said.
"The advantage of a Brexit is we could amend those regulations; without Brexit you can do nothing," Johnson said. "They are not ideally tailored to the needs of this country."
Johnson argued that the EU's recent experience of crises meant other nations in the bloc would want to secure a quick post-Brexit trade deal. "They would want above all to minimize uncertainty and delay," he said.
'British Deal'
Accused by opposition Labour Party lawmaker Helen Goodman of not knowing whether he wanted an arrangement with the EU like that of Norway, Switzerland or Canada, Johnson responded: "I don't want to imitate the Canadian deal, I want a British deal."
At his weekly question time in the House of Commons later Wednesday, Cameron dismissed the idea of Britain easily being able to reach a favorable post-Brexit agreement.
"I don't think we should be naive about believing that other countries would automatically cut us some sort of sweetheart deal," the premier told lawmakers. "Can we really guarantee that French farmers or Italian farmers or Spanish farmers wouldn't put pressure on their governments to give us a less good deal?"
During the committee hearing, Labour lawmaker John Mann accused Johnson of slurring Mark Carney by saying the Bank of England governor had put forward a political argument for Brexit -- an allegation the mayor disputed.
Carney, who told the Treasury Committee earlier this month that Brexit is the biggest domestic risk to financial stability, had a "perfect right" to comment on the likely effects of leaving the EU, Johnson said. But the mayor accused industry groups that support EU membership of being dominated by people who have a lucrative vested interest in backing the EU.
"There's an enormous industry of lobbyists" run by "people turning left on the plane because of our membership of the European Union," Johnson said in a reference to first-class air travel. "The people who would benefit massively from the change are the 95 percent of U.K. businesses that do not export to the EU but have to comply with 100 percent of EU regulation."
Chancellor of the Exchequer George Osborne, Johnson's biggest rival to become the next Tory leader, will appear before the committee on Thursday, to discuss his budget statement last week. Osborne was forced to abandon controversial cuts to welfare payments for the disabled, leaving him with a hole in his spending plans, after Work & Pensions Secretary Iain Duncan Smith quit the cabinet in protest.