Joining Forces With a Robot to Walk Again
Bloomberg News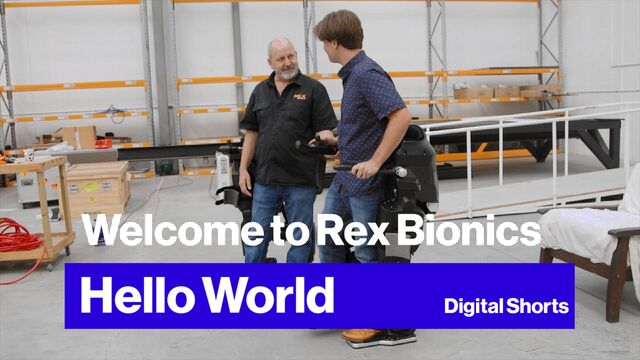 "My best friend was diagnosed with multiple sclerosis," says Richard Little, who told him, "Why don't we build you robot legs?" 
Little, the CEO and co-founder of Rex Bionics in Auckland, recalls that "we spent four years in the garage, and we actually got something working. It could sit and it could stand and it could walk."
Here he demonstrates the Rex, a fully self-supporting exoskeleton for people with spinal cord injuries and other impairments to mobility. It relieves the pressure of sitting in a wheelchair all day, which reduces bone density. And it can do more.
Jarard Pearce, a robotics engineer at the company who lost the use of his legs in an accident 10 years ago, remembers taking the Rex home to try it out at his neighborhood bar.
"Walk back in there for the first time," he says. "Have a drink with my mates, standing up around the bar leaner." Now it's a conversation piece: "Everyone wants to have a turn."  
Join Ashlee Vance as he meets the audacious pioneers of a tech revolution in New Zealand, in the first episode of Hello World. 
Before it's here, it's on the Bloomberg Terminal.
LEARN MORE