Iron Ore Billionaire Mulls New Energy Minerals as China Shifts
Bloomberg News
Fortescue very interested in lithium, graphite, copper

Any investments would require serious thought, Forrest says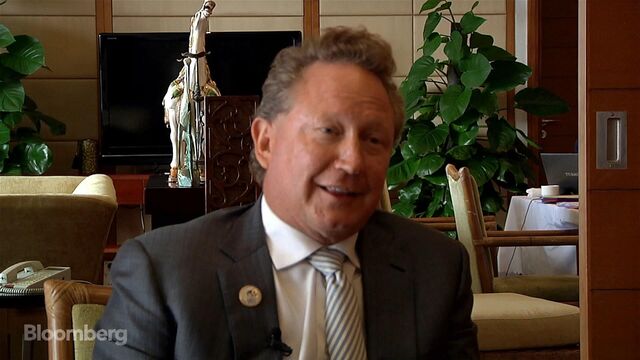 Australian iron ore billionaire Andrew Forrest said his company is considering possible investments in renewable energy amid the transition in China's economy.
"We are incredibly interested in lithium, graphite, copper. We are incredibly interested in renewables, in the recycling of nuclear waste," Forrest, the founder and Chairman of Fortescue Metals Group Ltd., told Bloomberg Television in an interview at the Boao Forum for Asia in Sanya, China. "But will we charge off in there without incredibly serious thought? No."
Fortescue, the world's fourth-biggest iron ore producer, is considering diversification as China's decades-long infrastructure investment boom fades, cutting prices for the raw material that's its only source of revenue. Lithium and graphite are minerals used in batteries for electric cars, while renewables include solar, wind and tidal power generation.
Producers of lithium raw materials have surged in recent months as supply fails to keep pace with demand and on expectations of a boom in the production of electric vehicles. China's government has pledged to promote new energy vehicles by subsidizing producers, speeding up construction of charging stations, and setting quotas for new energy cars in the vehicles bought by public bodies.
Fortescue won't move into these sectors "until we're absolutely certain that we are looking at something that will be another iron ore industry," Forrest said. "We're not going to bet our employees' futures on a whim, so that discipline stays."
Fuel Emissions
Spending on renewable energy projects grew 4 percent to a record $329.3 billion last year, spurred by global regulations designed to curb fossil-fuel emissions, according to Bloomberg New Energy Finance. From 2015 to 2024, the market to supply lithium ion batteries for light vehicles may total $221 billion, according to Navigant Consulting Inc.
Even as China's economy shifts toward the consumer, Forrest sees continuing demand for iron ore, he said. Fortescue this month announced an accord with Vale SA, the world's biggest producer, to create joint ventures to blend their ores and an option for the Brazilian company to take a stake of as much as 15 percent in the Australian miner.
The deal isn't a way of selling down his own stake, Forrest said. He's Fortescue's largest shareholder with a stake of about 33 percent, according to data compiled by Bloomberg.
"The reality is that iron ore will continue to stay strong, demand will continue to stay strong," Forrest said Tuesday.  "Volumetrically, we are experiencing month-on-month growth, which is records each month. If America, Britain or Australia had anywhere near Chinese growth we'd be popping champagne."
— With assistance by Martin Ritchie
Before it's here, it's on the Bloomberg Terminal.
LEARN MORE