Ford to Revamp Lincoln Navigator SUV With Retro American Style
by
CarLab's Noble says concept doesn't try to mimic Europeans

Premium brand's president calls approach `quiet luxury'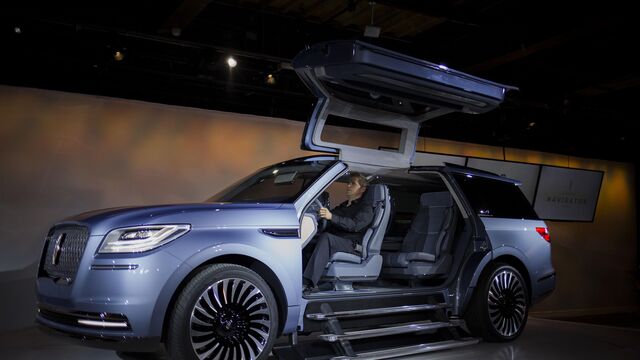 Ford Motor Co. is showing off a concept version of the Lincoln Navigator large sport utility vehicle with a retro look and lavish interior as the automaker tries to rebuild its luxury brand.
The concept SUV is being presented at the New York International Auto Show, which starts this week. It features creature comforts such as seats that can adjust in 30 directions, video screens for each occupant and a gear-shift mechanism that resembles keys on a piano. The redesigned Navigator will reach showrooms next year.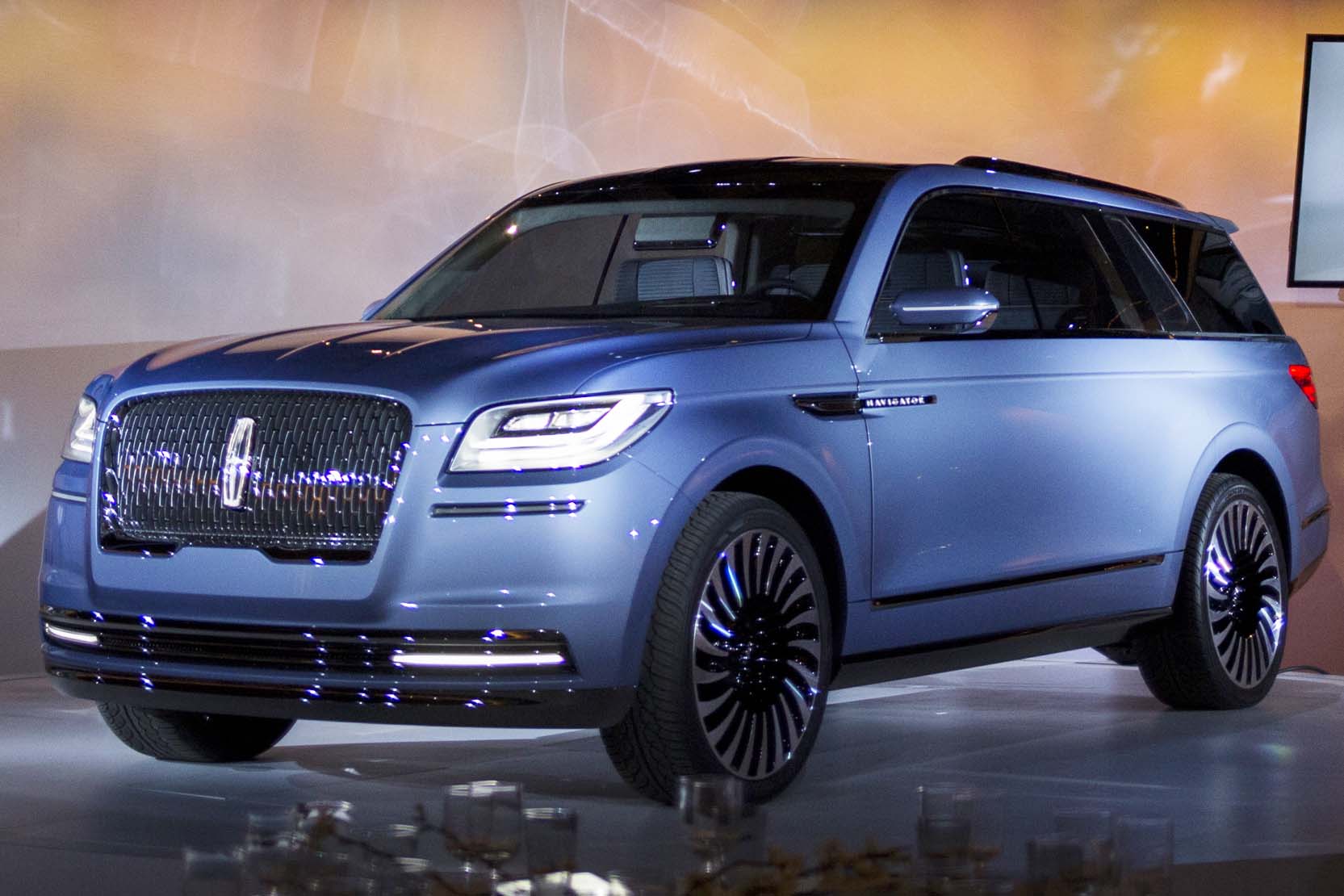 "This is how we define quiet luxury," said Kumar Galhotra, Lincoln's president, at an event Monday night. "It's about creating warm, personalized, human experiences in everything we do."
Lincoln needs a stronger performance from its big SUV, which accounted for 11,964 sales in the U.S. last year. That helped the brand to a 7.1 percent gain, but General Motors Co.'s Cadillac sold almost twice as many of its similar-sized Escalades. Ford Chief Executive Officer Mark Fields is investing $2.5 billion through 2020 for four new Lincoln vehicles, including the Navigator.
"General Motors has been virtually uncontested in this space,'' said Eric Noble, president of CarLab, a consulting firm. "It's about time Ford responded.''

Noble praised the Navigator concept's retro look, which includes chrome moldings that stretch horizontally along the sides of the SUV, and a 1950s-style dashboard that stretches all the way across the passenger compartment. He even lauded the bigness of the Navigator and its three rows of seats.
'American Tradition'
"In the best American tradition, scale is the same thing as luxury, or at least part of it,'' he said.
"In the end, this is a feel-good experiment in American luxury,'' Noble said. "It isn't about American companies who are chasing the Europeans and trying to mimic them.'

Galhotra described the Navigator as Lincoln's most widely recognized nameplate, even in China, where the brand is expanding.
He said the concept vehicle carries "strong hints" about the model that will eventually reach showrooms. The SUV has a V-6 turbocharged engine producing more than 400 horsepower, Galhotra said. Ford will reconcile that power to growing concerns over climate change by using aluminum body panels to reduce the vehicle's weight, Noble said.
The Navigator concept has large gull-wing doors. When Lincoln unveiled the vehicle at a press event Monday night at a warehouse in New York's Chelsea district, some journalists gasped and then started clapping.

Galhotra quickly reminded the crowd that they were seeing a concept vehicle and that the Navigator to be introduced in 2017 won't have that feature. The doors were just a way for Lincoln to have some fun and call attention to the SUV's lavish interior, he said.






Before it's here, it's on the Bloomberg Terminal.
LEARN MORE