ECB's Lautenschlaeger Says Banks Must Adapt to New Environment
by and
Lenders have dealt with periods of negative rates before

Reducing euro area banks' bad loan stock will take years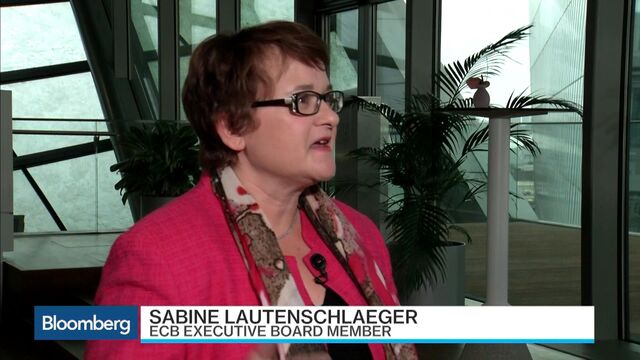 It's normal for banks to adapt to changes in the macroeconomic environment and they dealt with periods of negative real rates in the last century, European Central Bank Supervisory Board Vice Chair Sabine Lautenschlaeger said.
Banks in the euro area need to cut costs, which can be supported by the digitalization of the banking business, and they can increase the share of revenue coming from sources other than loans, such as fee income, Lautenschlaeger said in an interview with Bloomberg Television on Wednesday.

"We have had several times of negative interest rates, real interest rates, if you think of the 1970s and 80s," Lautenschlaeger said. "It's a challenge for sure, but it's not something that's not feasible to do."
Lautenschlaeger, who's also a member of the ECB's Executive Board that formulates and votes on monetary policy, said that reducing the high stock of sour loans in the euro area will be a task that will last for years and will take a lot of accompanying measures. The euro area countries that were rescued in the crisis can serve as an example for some of the measures, she said.
"The workout we are trying to do, trying to get a grip on as a supervisor, will take years for sure," she said. "The banks need to make sure that they have a market where they can sell their non-performing loans," and legal and insolvency frameworks may need to be adapted.
Before it's here, it's on the Bloomberg Terminal.
LEARN MORE