business
Credit Suisse CEO Blindsided as Bank Added to Risky Positions
By and
Thiam said trading actions were `completely unacceptable'

Firm has taken more than $250 million of writedowns this year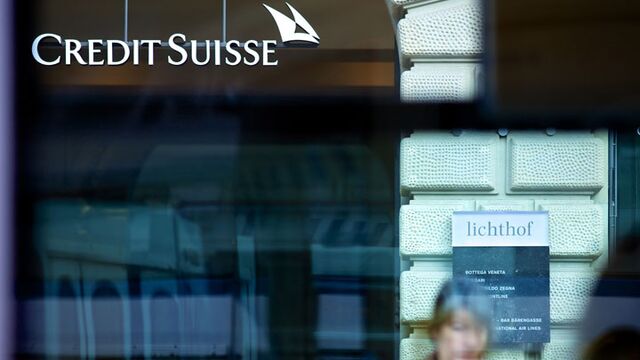 Credit Suisse Group AG Chief Executive Officer Tidjane Thiam said the firm's traders had ramped up holdings of distressed debt and other illiquid positions without many senior leaders' knowledge, helping lead to a first-quarter loss in the markets business.
"This wasn't clear to me, it wasn't clear to my CFO and to many people inside the bank" when the firm laid out a strategy in October, Thiam, 53, said Wednesday in a Bloomberg Television interview. "There needs to be a cultural change because it's completely unacceptable," adding that there had been "consequences" for some employees.
The Zurich-based lender's holdings of distressed debts, leveraged loans and securitized products, including collateralized loan obligations, triggered $258 million of writedowns this year through March 11, after $495 million of losses in the fourth quarter, according to a presentation. The bank said it sold off a quarter of its distressed holdings and more than half of its CLO positions and is exiting some of those businesses.
Trading revenue may drop 40 percent to 45 percent in the first quarter, the bank said. The drop could have been worse, as Thiam said he found out about the positions in January and moved to limit the damage. If he had known the extent of the issues in October, the plans he laid out at that time would have been affected, he said.
"A lot of the problems in the investment bank have been that people have been trying to generate revenue at all costs," Thiam said in the television interview with Francine Lacqua. "People were reluctant to reduce it because it would've exposed their cost problem."
'Ugly Ducklings'
In October, Thiam defended the bank's credit and securitized products units that he said are viewed negatively as "ugly ducklings" because they require so much capital under new rules introduced since the financial crisis. The CEO said shrinking the businesses could create more problems and that he didn't mind allocating capital to the units if they generate acceptable returns, as they did in 2014, while his head of global markets, Timothy O'Hara, also stood by the units.
"We also intend to defend our highly profitable securitized products and credit franchises," O'Hara said in October. "Securitized products is one of the strongest client positions of any business in the firm, while also being one of our most consistently profitable businesses within global markets."
The restructuring plans announced in October have so far failed to convince investors, with the shares losing about 41 percent of their value in that period.
"There was clearly an active decision to retain illiquids that CS took which other firms didn't take," Huw Van Steenis, a bank analyst at Morgan Stanley, said to Thiam on the conference call. "It was a surprise to everyone in the first place that you kept them."
Credit Suisse said Wednesday it's now targeting 6,000 job cuts in 2016, up from 4,000 it had previously planned, and aims to cut risk-weighted assets in the trading unit by another 20 percent to $60 billion. The firm plans to exit most of the distressed credit, European securitized product trading and long-term illiquid funding.
The CEO said the bank has taken steps to avoid any more surprises.
"I'm confident that we have good processes in place to try and ensure that this never happens again," Thiam said in the interview. "I can never say never."
— With assistance by Vogeli Voegeli
Before it's here, it's on the Bloomberg Terminal.
LEARN MORE