Chinese Buy One-Third of Vancouver Homes: National Bank Estimate
By
Toronto purchases estimated at about 14 percent, analyst says

Government needs better data on offshore buyers: Routledge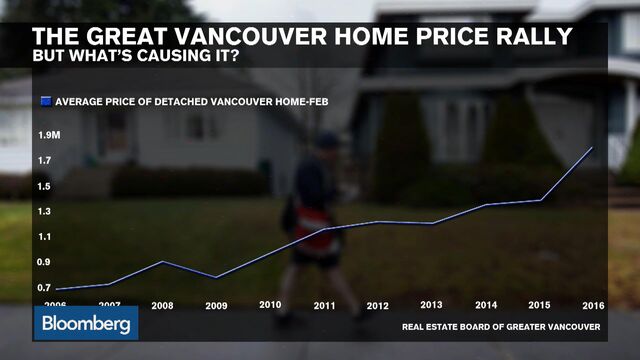 Buyers from China comprised about one-third of purchases of Vancouver's hot housing market in 2015, according to "back of the envelope calculations" by National Bank of Canada.
Chinese investors spent about C$12.7 billion ($9.6 billion) on real estate in the western Canadian city in 2015, or 33 percent of its C$38.5 billion in total sales, according to a note by financial analyst Peter Routledge on Wednesday. In Toronto, they made up 14 percent of purchases, or about C$9 billion of the C$63 billion in deals. Routledge compiled the data by extrapolating from a Financial Times survey of 77 high-end buyers and data from the U.S. National Association of Realtors.

National Bank's analysis follows the federal government's budget announcement Tuesday that it will spend C$500,000 to find ways of tracking foreign homebuyers. Finance Minister Bill Morneau promised the funds to Statistics Canada this year. Some said the money wasn't enough for a proper search and analysis.
"Investing only 25.7 percent of the cost of an average price of a detached home in Vancouver is, at the very least, a touch on the low side," Routledge said in the note. He cautioned that his analysis was a hypothetical approach to gauge capital flows, but that it pointed to the need for reliable numbers.
Vancouver has long been a target for housing critics who say offshore buyers, many of whom purchase homes as investments and leave them empty, are pushing prices beyond levels locals can afford and creating ghost towns in neighborhoods. The government housing agency, Canada Mortgage & Housing Corp., is currently studying ways to determine numbers of offshore buyers.
The average price of a detached home in the city skyrocketed 30 percent to C$1.8 million in February from the prior year as sales jumped 37 percent, according the local real estate board. The price is much higher in certain neighborhoods, such as Vancouver West, where the average detached home will set a buyer back C$3 million.