China Arrests 37, Li Urges Scrutiny as Vaccine Scandal Widens
by
Authorities focus on drugs distributed by mother-daughter team

Police say $88 million worth of vaccines sold illegally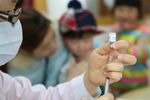 Police in eastern China detained 37 people in a crackdown on illegal vaccine sales, the official Xinhua news agency said early Wednesday, as a widening scandal highlights vulnerabilities in the country's vast drug distribution chain.
Premier Li Keqiang called for a thorough investigation into the illegal sale of vaccines after allegations that a mother-daughter team had been distributing drugs that may have been compromised due to improper storage and transport. It was not clear whether all of the suspects were linked to the pair. Other suspects were still being sought.
During the weekend, Xinhua said China's drug regulator and police were tracking down more than 570 million yuan ($88 million) worth of vaccines, which had been sold illegally in 18 provinces since 2011. The arrests mark the latest in a series of developments that have raised concerns about drug safety and quality in China, although medical authorities said there would be minimal risk of toxic reactions.
Xinhua said the vaccines were produced by licensed manufacturers, adding the vaccine quality may have been compromised because of improper transport and storage. It said police were investigating three pharmaceutical companies, including one that it identified as Shandong Zhaoxin Bio-tech Co., which had its manufacturing certificate revoked.
Shandong-based Vaccine maker Walvax Biotechnology announced a share-trading suspension on Wednesday, saying it was in "active cooperation" with the probe.
Authorities were investigating 12 types of vaccines, including those used to combat Japanese encephalitis and rabies, the Shandong food and drug administration noted on its website. The vaccines are not part of the national mandatory program that seeks to vaccinate every child.
Improperly stored or expired vaccines seldom cause toxic reactions and "therefore there is likely to be minimal safety risk in this particular situation," the World Health Organization in China said on its official WeChat social media account. It said children were at risk from a lack of protection from the disease for which the vaccines are intended.
Before it's here, it's on the Bloomberg Terminal.
LEARN MORE