Carlyle Steps Up Japan Deal Pace as Governance Reform Kicks In
by and
Buyout fund seeks to complete three to four deals this year

Half of Carlyle's $1 billion Japan fund is already invested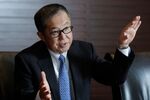 Carlyle Group LP, which has made two acquisitions in Japan so far in 2016, said it plans to add another one or two deals there this year as companies get serious about boosting their profits.
Carlyle has invested half of the $1 billion in its third fund after buying six Japanese companies since it started investing in 2014, Tamotsu Adachi, managing director and co-representative in the country, said. The private equity firm has done two transactions in 2016 already, both announced this month, compared with the one purchase it made in all of 2015, Adachi said. Carlyle will start raising the next fund once it completes investment for the current pool, he added.
An increasing number of Japanese companies are focusing on ways to lift returns for shareholders following the introduction of a corporate governance code last year, one of the main tenets of Prime Minister Shinzo Abe's government to attract investment. Japan is lagging behind in private-equity deals: It had $1.9 billion worth of buyout transactions in 2015, according to data compiled by Bain & Company. That compared with $143 billion in North America and $93.9 billion in Europe.

More companies will start to sell non-essential units in transactions known as carve-out deals, as they focus on their main businesses, Adachi said. Over time, that will help Japan's private equity industry narrow the gap with the U.S. and Europe, Adachi said.
"I have never experienced such a large amount of investment opportunities," he said. "The code was introduced last year, but that impact will become more apparent this year, next year and further out. I would estimate that corporate carve-out deals will increase in Japan."
This month, Carlyle invested in GGC Group, a bean sprout manufacture based in Okayama prefecture, through a strategic business and capital alliance. It also bought WingArc1st, a Tokyo-based software company. In 2015, the Washington-based firm took Hitachi Metals Techno Ltd. private through a 29.3 billion yen ($257.7 million) tender offer. A year earlier, it acquired Oyatsu Co., a snack maker, and Sunsho Pharmaceutical Co., a supplier of vitamins and supplements, from family owners. It also invested in Aruhi Corp., which sells mortgages.

Since opening an office in Tokyo in 2000, Carlyle, which oversees about $183 billion globally, has invested in about 20 companies for its Japan buyout funds and exited about half of them. More than half of its regional funds' investors are Japanese institutions including banks, insurance companies and pension funds.
Before it's here, it's on the Bloomberg Terminal.
LEARN MORE