Canada Passes Up Chance to Lock In Rates on Record Borrowing
by
Morneau's blueprint outlines C$133 billion in bond issuance

New debt to be focused at shorter-end of yield curve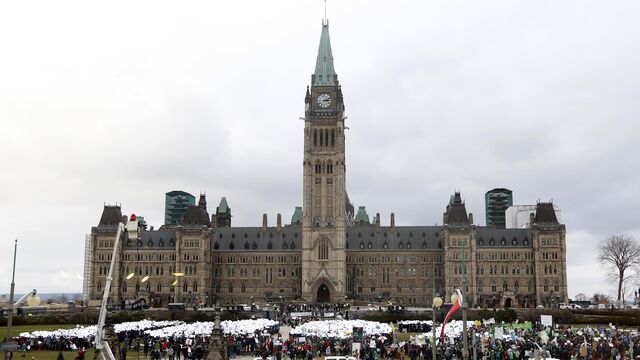 Canadian Prime Minister Justin Trudeau is passing up the opportunity to lock in historically low interest rates in a year of record borrowing, favoring shorter-term debt that could clear the way to an earlier return to balanced budgets.
Finance Minister Bill Morneau delivered the nation's 2016-17 budget Tuesday in Ottawa, laying out plans to issue a record C$133 billion ($102 billion) in bonds to fund massive deficits. The bulk of the new debt will come at the shorter-end of the curve, Morneau said, between two and five years and including the re-introduction of a three-year note.
"They should be locking in at these interest rates, especially given the fact a lot of the thrust is infrastructure," Doug Porter, chief economist at Bank of Montreal, said in an interview. "If their goal is in fact quietly to get back to balance five years out then I can actually see the argument for leaning more in the shorter end."
The focus on shorter-term borrowing, as opposed to 10- and 30-year notes, provides an incentive to close the budget gap or risk having to refinance at potentially higher rates. The projected issuance compares with C$92 billion in the current fiscal year, and is 30 percent higher than the previous record for annual issuance set in 2009, when former Prime Minister Stephen Harper plunged the country into deficits to combat a global recession.

Yields on Canadian bonds of all maturities rose after the government's borrowing plan was released. Canada's benchmark two-year bond traded at 0.58 percent on Wednesday in Ottawa, while the rate on the 10-year note was 1.31 percent, according to data compiled by Bloomberg. Bonds maturing in 30 years yielded 2.08 percent.
Even so, those rates are all still low by historical standards and not far off the record lows hit in all maturities earlier this year.
"Their focus on the short end is surprising -- there are risks with that," said Darcy Briggs, portfolio manager at Franklin Bissett Investment Management in Calgary, who helps oversee about C$5 billion in fixed-income assets. "You should issue 50-year paper because we have the cheapest yields in a generation. It doesn't get any cheaper than that."
Harper Plan
Trudeau came to power in October arguing the economic slowdown caused by the collapse in oil prices justified a return to deficit-fueled investment, with a focus on long-term infrastructure. Though the Liberal government didn't include a target date for a return to balance in the plan, it made a general commitment to do so "in a responsible, realistic and transparent way," and mirrored the one Harper used to balance the books after five years of deficits.
Most of the projected borrowing for the 2016-17 fiscal year is to refinance C$92 billion of old debt, much of it a hangover from when Harper ramped up borrowing. The rest will be needed to finance the C$29.4 billion deficit plus borrowings for crown corporations and other requirements.
The budget projects cumulative deficits over the six years of C$118.6 billion, 74 percent higher than a February forecast.
Part of Trudeau's pitch for deficit spending was that the borrowing costs Canada's federal government pays in international debt markets have fallen to record lows this year as central banks lowered interest rates to stimulate growth and turmoil in financial markets put a premium on the country's top rated AAA bonds.
"The debt management strategy is consistent with the government's plan to return to balance," said Warren Lovely, an economist at National Bank of Canada. "It's in no way a departure from the way an earlier government funded itself during the global crisis."
Where Harper enjoyed steadily falling interest rates over the course of his tenure, rates are generally expected to rise globally, with projections from the U.S. Federal Reserve implying it will raise its own rate twice this year, which generally means higher borrowing costs in Canada, putting more pressure for Trudeau to rein in deficits.
"If you're confident your fiscal results are going to improve, your deficits are going to melt away over time, the type of funding strategy the Government of Canada is talking about needn't come across as risky," said Lovely. "This is really a continuation of that earlier funding strategy."
Before it's here, it's on the Bloomberg Terminal.
LEARN MORE