Brussels Terrorists Struck Soft Underbelly of Airport Security
by
Attacks outside of screening areas have long been a worry

Security specialist says `it's a topic of a lot of focus'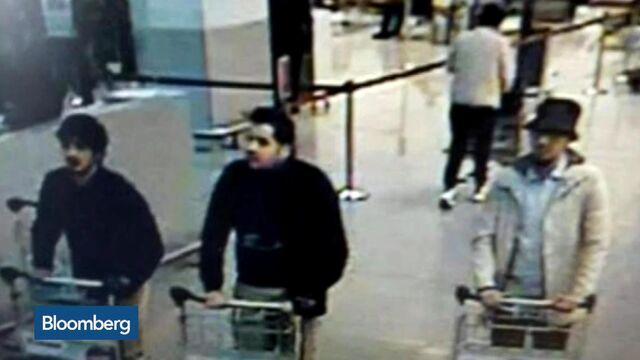 Smuggling weapons and bombs onto airplanes has become harder since the terror attacks of Sept. 11, 2001. But that's left vulnerabilities that worry security experts: the concourses around crowded ticket counters and security checkpoints.
Explosions detonated outside the security gates at the Brussels airport on Tuesday left an estimated 11 dead, according to authorities. About 20 more people were killed in an attack in the city's subway.
"The soft targets of the front of the airport, both inside the terminal and outside the terminal, are very high on the radar screen at the TSA and other security agencies around the world," said Kip Hawley, who headed the U.S. Transportation Security Administration from 2005 through 2009. "It's a topic of a lot of focus."

Even as airports around the world have added more sophisticated detection equipment and increased the number of screeners, governments have grappled with the natural target created by the concentration of people who have yet to undergo checks. Even if airports add preliminary screening checkpoints outside terminals, there would still be vulnerable areas where people line up.
Suicide Bombers
"It's just an impossible task to set up screening before people get to the terminal," Randall Larsen, director of the Institute for Homeland Security in Austin, Texas, said in an interview. "That's why they attacked like this. We've made it difficult to get a bomb on an airplane."
---
In Pictures: Brussels Rocked by Deadly Blasts

Blasts ripped through the departures hall at Brussels Zaventem airport and a city center Metro station, causing more than 30 deaths and many injuries.
---
In the U.S., responsibility for security in open-access areas is shared between TSA and local law enforcement agencies. In addition to uniformed police present at most airports, the TSA has teams known as Visible Intermodal Prevention and Response, or VIPR, which patrol airport areas.
This type of armed presence in non-secure areas is a good deterrence to attacks like the one in Brussels, but it comes with financial and political costs, said John Halinski, a former deputy administrator at TSA who is now a security consultant.
"A lot of this boils down to money and who is going to pay," Halinski said. "At the end of the day, quite frankly, everybody is going to have to pay something if we're going go be more effective in this area."
Airports and local law enforcement agencies, which have primary responsibility for security outside an airport's secure zone, have been reluctant to boost spending for expanded patrols, he said.
Indian Airports
Outside the U.S. and Europe, officials have tried different ways to expand the security zone.
In India, passengers must present their ticket and proof of identity on arrival and have their bags screened and sealed. The documents are also examined at the check-in counter, followed by an additional security scan.
In disputed Kashmir, people seeing off friends and family must also buy passes that aren't available at times of heightened security, while travelers can't leave the terminal once they enter.
In Baghdad, passengers face their first checkpoint a mile from the airport, Halinski said.
Security Vulnerabilities
Measures like that wouldn't be feasible at far busier airports in the U.S., he said, where about 2 million people a day fly.
Adding checks on passengers entering an airport "could be disruptive and actually create new security vulnerabilities," the Brussels-based Airports Council International Europe trade group said in a statement.
At least some efforts have been made to improve police coordination at airports, Representative John Katko, a New York Republican who is chairman of House Homeland Security Committee's transportation security panel, said in an interview.
Congress mandated police departments conduct exercises to deal with similar emergencies in response to a 2013 shooting at a TSA checkpoint and terminal at Los Angeles International Airport, Katko said. A TSA agent was killed and at least two others were shot and wounded by a man who opened fire. The police response was delayed by confusion and communication breakdowns, Katko said.
Tighter Screening
Katko has also pushed for tighter TSA screening of U.S. airport workers following last year's bombing of an Egyptian airliner. The bomb was smuggled on board by an employee at Sharm el-Sheikh International Airport, killing 224 people.
It's too soon to know whether the Brussels attack should prompt new security measures in the U.S., Katko said.
When Larsen, a former Air Force colonel, helped oversee flights at Joint Base Andrews, the airport near Washington used by presidents, he said he added multiple layers of security. But there were always vulnerabilities that remained, he said.
"What I kept thinking of is, we didn't do anything about the hospital or the day care center that was also on the base," he said.
Before it's here, it's on the Bloomberg Terminal.
LEARN MORE