Brussels Bombers Are Latest Brothers to Stage Terrorist Assault
by
El Bakraoui siblings known to police for gang-related crimes

Family ties make it harder for security forces to crack plots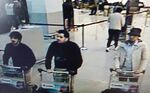 The brothers identified as the Islamic State bombers who attacked Brussels had a record of gang-related crimes in the Belgian capital and had been in touch with terrorists who struck Paris in November.  
Surveillance footage showed two men dressed in black and a third in light-colored clothing pushing luggage carts through Zaventem airport before the explosions. Belgian federal prosecutor Frederic Van Leeuw said on Wednesday that the man in the middle of the trio, Brahim El Bakraoui, detonated explosives at the terminal and had been identified from his fingerprints. His brother Khalid, not thought to be among the men caught on camera, attacked the Maelbeek metro station, Van Leeuw said. The bombings killed 31 people and injured 270.
Khalid, 27, and Brahim, 29, had criminal records, including for armed robbery and carjackings, but weren't wanted in relation to suspected terrorism offenses until security services raided an apartment in the Forest borough of Brussels last week, according to state broadcaster RTBF.
Khalid is thought to have rented the property under a false name, according to local media. There, police found a Kalashnikov rifle, an Islamic State flag and a book about radical Islam. They also recovered DNA from Salah Abdeslam, thought to be the sole surviving participant of the massacre in the French capital.
Sibling Attacks
Abdeslam was arrested by Belgian police on March 18 after four months on the run. A member of the Paris attacks cell, Mohamed Belkaïd, was shot dead by a police sniper at the flat. The El Bakraoui brothers are believed to have fled.
It's not uncommon for brothers to carry out such attacks together. In fact, as security and intelligence agencies step up their monitoring of potential extremists, jihadist groups are increasingly looking to recruit family members, a move that makes it harder to detect and prevent radicalization, according to a paper published last month by the Combating Terrorism Center at West Point.
"Kinship recruitment, which is difficult for security agencies to observe, is facilitated by several psychological mechanisms that bind individuals together on the path to extremism," the report's author, Mohammed Hafez, wrote. "Importantly, it deters ambivalent recruits from defecting to the authorities for fear of damaging their own valued relationships."
Boston, Charlie Hebdo
The bombing of the Boston marathon in 2013 was carried out by the Tsarnaev brothers, while Cherif and Said Kouachi attacked the offices of the Charlie Hebdo satirical magazine in Paris last year. A husband-and-wife team was responsible for the San Bernardino mass shooting in December.
Brahim El Bakraoui was convicted in 2010 of firing a Kalashnikov rifle at police during an armed robbery, according to reports by RTBF. He wounded one of the officers and was sentenced to nine years in prison. It's not clear when he was released. Khalid was sentenced to five years on probation in 2011 for carjackings, the broadcaster said.
Neither Brahim nor his brother appear to have been active on social media, at least not under those names, and no clear picture of their path to radicalization has emerged.
Van Leeuw, the Belgian prosecutor, said in the news conference police had recovered a message from a computer found in a garbage bin that suggested Brahim launched the airport attack as he knew authorities were closing in on him.
"I do not know what to do. I am on the run, people are looking for me everywhere. If I give myself up I will end up in a prison cell next to him," Brahim says in an apparent reference to Abdeslam.
A third suspect in the Brussels attacks, 24-year-old Najim Laachraoui, was identified on Monday as a key suspect in the Paris carnage. He's still at large.
Before it's here, it's on the Bloomberg Terminal.
LEARN MORE