Police Hunt for Suspects in Brussels Attacks as City on Alert
by , , and
Belgian news website withdraws report that suspect was caught

Authorities say 35 people killed in subway, airport bombings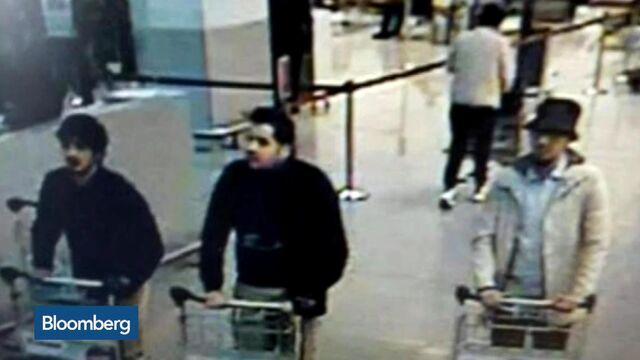 Belgian police hunted for suspects following Belgium's worst terrorist attacks as heavy security persisted in Brussels after the strike by Islamic State.
News website DH.be withdrew an earlier report that authorities had arrested 24-year-old Najim Laachraoui, one of three men filmed on closed-circuit TV wheeling baggage carts at the airport. Federal prosecutors had declined to confirm the arrest and said they'll hold a press conference at 1 p.m. local time.

Brothers Khalid and Brahim El Bakraoui, residents of the Belgian capital, have been identified as suicide bombers who blew themselves up at the airport and at a metro station near European Union headquarters, according to state broadcaster RTBF, citing an unidentified police source.
The Brussels bombings killed at least 35 people and left more than 230 injured. The attacks demonstrate the difficulty of protecting public locations in an open society, with the Belgian capital already on high alert after authorities discovered suspects in the Paris assaults in November had been living in Brussels. The explosions also struck a blow to the EU itself as leaders struggle to handle a flood of refugees from the Middle East and the rise of anti-foreigner parties.

"We have to take tougher and tougher measures to protect people," Belgian Foreign Minister Didier Reynders told RTL news. "Suicide attacks are very difficult to foil."
Nail Bomb
RTBF reported the El Bakraoui brothers were known to police but as gang members rather than terrorists, and that Khalid had rented, under a false name, a flat in the Brussels district of Forest which police raided last week. A taxi driver who drove the three suspects to the airport led police to the home in Schaerbeek hours after the attacks, Belgian newspaper Le Soir said. Police found a nail bomb, chemical products and an Islamic State flag at the residence.
Laachraoui, pictured in the CCTV airport footage wearing a cream jacket and a dark hat, left for Syria in 2013 and was stopped on the Austria-Hungary border last September while traveling with Salah Abdeslam, a suspect in the Paris massacres that left 130 people dead, DH.be said.
Laachraoui's DNA was allegedly found on explosive material used in Paris, DH.be reported. The DNA was found in a home in the Belgian town of Auvelais, near Charleroi, that was searched in late November, and in a house in the Brussels district of Schaarbeek that was used by the terrorist group, the Belgian prosecutor's office said on Monday.
Alert Level
Belgian authorities on Wednesday were assessing the terror threat level, currently at its highest, as commuter traffic was light at heavily guarded train stations. Subways started running again, though stops on the main line from EU institutions toward downtown remained shut. It isn't clear when the airport will reopen. Eurostar said it had resumed normal train services between London and Brussels after Tuesday's suspension.

---
In Pictures: Brussels Rocked by Deadly Blasts

Blasts ripped through the departures hall at Brussels Zaventem airport and a city center Metro station, causing more than 30 deaths and many injuries.
---
EU interior ministers will meet on Thursday or Friday in response to the attacks.
France is also on high alert. "We'll live with this terror threat for a long time," French Prime Minister Manuel Valls, told Europe 1 radio on Wednesday, urging "the whole world" to band together to fight terrorism.
At least 15 died at the airport, airport spokeswoman Florence Muls told Belga newswire on Wednesday. Brussels mayor Yvan Mayeur on Tuesday put the subway death toll at around 20.
Near the bombed Maelbeek metro station, Louise Jensen, 32, walked to her office as usual on Wednesday.
"It was strange coming to work this morning knowing everything that happened yesterday just here," Jensen said. "But we can't stay at home, we can't let them win. It's sad but we have to continue."
Before it's here, it's on the Bloomberg Terminal.
LEARN MORE