Brussels Air Shifts Jets From Bombed Hub to Ease Easter Rush
by
Airbus A320s relocate to Liege, regional jets sent to Antwerp

Three widebody A330s each to be stationed in Frankfurt, Zurich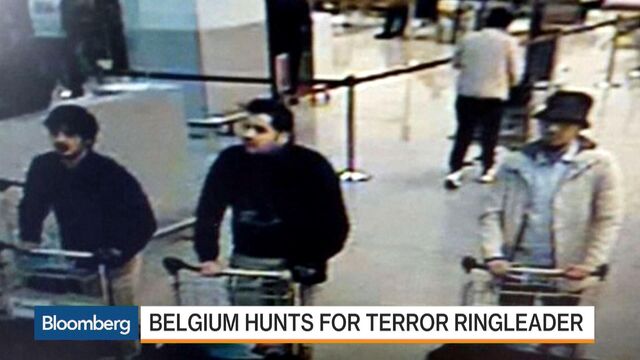 Brussels Airlines NV moved 21 aircraft out of its home city in an effort to resume flights for the year's peak travel period after Tuesday's terrorist attacks shut Belgium's main airport until the start of next week.
The carrier will relocate 10 Airbus Group SE A320-family planes to Liege, 60 miles (97 km) east of Brussels, and five BAE Systems Plc Avro RJ100 regional jets to Antwerp, 30 miles north. It's also moving six A330 long-haul airliners abroad, basing three each at Frankfurt and Zurich airports after authorities said its home hub won't open before Monday.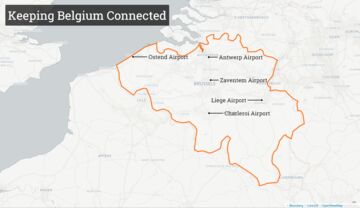 Moving so many planes is a tremendously challenging task that would normally take three or four months even without the Easter rush while arrangements for everything from catering and cargo to ground handling and route rights were put in place, Brussels Air spokesman Geert Sciot said.
"We're trying to do it in 48 hours," he said. "Easter is the busiest time of the year, and we also have the start of the summer timetable and a new flight to Toronto due Sunday. And we have colleagues in hospital, colleagues who are extremely shocked and have lost part of our infrastructure."
Zaventem Destruction
Brussels Air plans to operate 64 flights to or from its makeshift hubs on Thursday and 96 -- about 40 percent of the usual total -- on Friday. The move will stay in place until its devastated Brussels Zaventem base reopens, or longer, depending on how much capacity can be restored in the near term. Restrictions in Liege, now open 24 hours to accommodate the extra airliners, and Antwerp mean that's about the maximum airline can offer, Sciot said.
Bombs packed with nails were exploded in both the old and new parts of Zaventem's departure hall, killing 11 people and injuring more than 80. The blasts collapsed the ceiling, shattered not just every window but most of the frames, and destroyed the Brussels Air check-in area.
Stranded Luggage
The airport said Thursday that flights are suspended "until Sunday included." Luggage from aircraft left stranded on the tarmac after the attacks can now be retrieved, it said.
Despite the emergency schedule, most of Brussels Air's 50 aircraft will remain grounded in the run-up to Easter, preventing it from operating a full timetable that usually comprises about 250 flights a day carrying 20,000 people or more.
Even without the holiday surge, Brussels has a bigger flow of outbound traffic each weekend than most European cities as people with jobs tied to the European Union head home. On some flights to Barcelona, Zaventem's No. 1 destination, as many as 40 percent of customers are Spaniards representing the interests of Catalonia, Sciot said.
Ryanair Switch
The measures come after Ryanair Holdings Plc, the biggest foreign carrier at Zaventem, focused all Belgian services on its hub at Charleroi, 35 miles from Brussels, a switch that will be retained until Tuesday at least.
Brussels temporary bases for six of its nine A330s are the main hubs of two of its sister airlines. Frankfurt is the main hub used by 45 percent shareholder Deutsche Lufthansa AG, which can provide feeder traffic, and will be used for flights to and from Africa and the U.S. Zurich, home to Lufthansa's Swiss arm, will also provide services to the continent.
Five of the aircraft were sent to Africa -- a market in which the carrier specializes -- on Wednesday to fly out clients stranded by the bombings. Two planes already returned to Zurich, with the remaining three expected Thursday evening in Frankfurt, with customers from Cameroon, Sierra Leone, Liberia, Gambia, Senegal, Uganda, Rwanda, Togo and Ghana.
Of Thursday's flights, 44 will operate from Liege and 20 from Antwerp, with a 66-30 split Friday, Brussels Air said. The carrier may serve up to three-quarters of its usual short-haul destinations, while cutting frequencies.
Ryanair rival EasyJet Plc is moving Zaventem flights to Lille in France, which has rail links with Brussels. TUI AG's Belgian arm Jetairfly will divert planes scheduled for Zaventem to Charleroi, where it already operates, and Ostend.
Charleroi is also served by Wizz Air Holdings Plc -- Eastern Europe's biggest low-cost carrier -- Turkish discount specialist Pegasus Airlines, and Thomas Cook Group Plc, which plans to divert its Zaventem flights to Liege. Among long-haul operators, Etihad Airways said its services will go to Dusseldorf.
Before it's here, it's on the Bloomberg Terminal.
LEARN MORE