Billionaire Allen Gives $100 Million for Bioscience Research
by
Stanford, Tufts get $20 million grants to create new centers

Other recipients include one of the scientists behind Crispr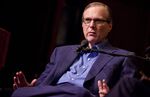 Paul Allen, the billionaire owner of the Seattle Seahawks football team, will give away $100 million to fund risky life-science research by scientists such as the University of California professor who was key to discovering the gene-editing breakthrough Crispr.
The money is an initial commitment toward a larger 10-year plan to advance bioscience. The two biggest grants announced Wednesday, for $20 million each, will fund centers at Stanford University and Tufts University to look into computer modeling of infections of the immune system and how cell tissue is created, respectively.
The foundation, called the Paul G. Allen Frontiers Group, will also give grants of about $1 million to $1.5 million to support early-stage research by scientists. Among the first recipients is Jennifer Doudna, a professor at the University of California at Berkeley who helped discover gene-editing technique Crispr, which can slice and edit DNA, the code of life, to help develop drugs. She will use some of the funding to look beyond Crispr and target the gene messaging system in cells. Another recipient is James Collins, a professor at the Massachusetts Institute of Technology, who will work on designing safe bacteria to kill dangerous bacteria.
Allen, who has a net worth of $18 billion according the Bloomberg Billionaires Index, has shown an interest in donating to biological research before. During the Ebola crisis in 2014, he pledged $100 million to fight the spread of the disease, and founded the Allen Institute for Brain Science in 2003. The 63-year-old co-founded Microsoft Corp. with Bill Gates in 1975.
Before it's here, it's on the Bloomberg Terminal.
LEARN MORE