Belgium Hunts for Ringleader as EU-Wide Terror Fears Mount
by and
Provisional Brussels assault toll put at 31 dead, 270 injured

Prosecutors identify two suicide bombers, hunt for ringleader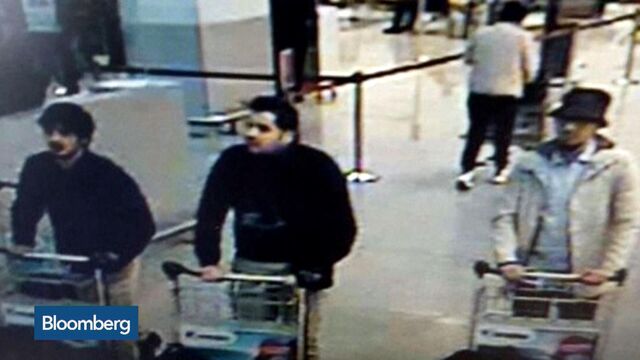 Belgian authorities hunted for the ringleader of Tuesday's attacks in Brussels amid fears of a Europe-wide spread of Islamic terror networks with the capability to strike at will.
Prosecutors identified two of three suicide bombers as brothers Khalid and Brahim El Bakraoui as they searched for a fourth man in a cream-colored coat caught on security cameras who escaped from the airport after placing a bomb that didn't go off. The provisional casualty toll at the airport and a downtown subway station of 31 dead and 270 injured is likely to rise, authorities said.
Following the attacks Tuesday morning, police discovered their bomb-making hideout in northern Brussels along with a testament written on a computer by Brahim El Bakraoui that he was "frantic, not knowing what to do, being hunted everywhere," federal prosecutor Frederic Van Leeuw told reporters on Wednesday.
Belgium kept its terror alert at the highest level as police raided houses in the capital looking for clues and suspects. Following two attacks on civilians in Paris last year, the Brussels murders exposed how difficult it is to track the sheer number of suspected Islamic radicals. Germany, up to now spared a large-scale attack, said it has files on 450 dangerous Islamists. Many European-born radicals have spent time in Syria undergoing terror training by the Islamic State, which claimed responsibility for the Brussels atrocities.
Counter-Terrorism Meeting
European Union interior ministers will meet Thursday afternoon in Brussels to weigh new counter-terrorism and airport security measures. The Brussels bombings provided another example of terror plotters with criminal records who evaded detection.
EU Home Affairs Commissioner Dimitris Avramopoulos called on "all member states to start working together to foster mutual trust, exchange information and intelligence, because this is the only way to go ahead."
Belgium held a nationwide minute of silence and Prime Minister Charles Michel and French Prime Minister Manuel Valls laid a wreath in honor of the victims at the subway station a short walk from EU headquarters. Thousands gathered at the 19th century stock exchange in the city center and scrawled messages in chalk on the pavement as the country observes three days of mourning.
"Peace and security is Europe's destiny, and now more than ever, we have the obligation to fulfill that destiny," Michel said.

The city's transport system began to return to operation, with one of the two main subway lines reopening and tram and bus services reinstated. The European Commission decided that bomb damage to a building that houses its agriculture department was too great to deem it safe enough yet for staff to go in.
The airport, about 15 kilometers (9 miles) from central Brussels, will be closed through Thursday as investigators collect evidence and struggle to identify the dead.
Brahim El Bakraoui, 29, was one of three airport check-in counter attackers, while his brother, Khalid Bakraoui, 27, carried out the subway bombing. The Brussels-born brothers, both Belgian citizens, had an "extensive criminal record, but not related to terrorism," Van Leeuw said.
Suspect Hunted
The third suicide bomber, at the airport, wasn't named. Prosecutors also didn't identify the suspect seen leaving the departure hall alive. Belgian media earlier identified him as Najim Laachraoui and announced his arrest, only to retract that report later.
Laachraoui left for Syria in 2013 and was stopped on the Austria-Hungary border last September while traveling with Salah Abdeslam, who was arrested last week as a suspect in the Paris massacres in November that left 130 people dead, prosecutors said previously.
The failed airport bomb packed the most explosive power and didn't go off until later, after passengers fled and the army's disposal experts moved in to disable it.
Lethal Paraphernalia
Bomb-making materials found at a house in the Schaerbeek district of Brussels included 15 kilograms of TATP, 150 liters of acetone, 30 liters of hydrogen peroxide, detonators, a bag of nails, plastic trays, tools and ventilators, prosecutors said.
Belgian media reported that the lethal paraphernalia was left behind because the culprits ordered a minivan from a local taxi service and had to make do with the smaller sedan that was sent to pick them up instead.
The hastily typed testament by the elder brother was found on a computer in a nearby garbage can. It fueled suspicions that last week's capture of Abdeslam led the attackers to speed up a plot already being hatched.
Valls, the French prime minister, also called on the European Parliament to pass legislation to enable the tracking of air passengers within Europe.
"We have to turn the page on naïve optimism," Valls said.
Before it's here, it's on the Bloomberg Terminal.
LEARN MORE