Italy's Banco Popolare To Buy BPM Forming Third-Largest Bank
by and
Banco Popolare investors will hold 54% of combined bank

Banco Popolare will raise 1 billion euros before transaction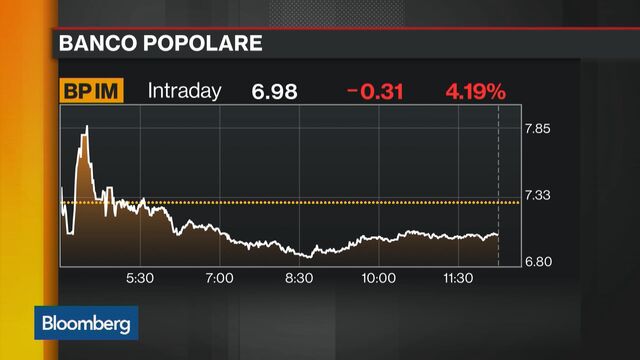 Banco Popolare SC agreed to buy Banca Popolare di Milano Scarl in an an all-stock deal that will create Italy's third-largest lender and may prompt a wave of consolidation among the country's cooperative banks.
Banco Popolare investors will own 54 percent of the combined lender, the banks said in a joint statement on Wednesday. As part of the plan, Banco Popolare will tap investors for 1 billion euros ($1.1 billion), with the deal expected to be completed by the end of the year once the capital increase is finished.
"It has been a complicated deal, with unexpected hurdles, that in the end contributed to having the best possible agreement," Banca Popolare di Milano Chief Executive Officer Giuseppe Castagna told analyst during a conference call. "From the merger a solid, stronger bank will arise."
The European Central Bank has increased pressure on Italian lenders to clean up balance sheets, consolidate through mergers and tackle an estimated 360 billion euros of troubled and defaulted loans that are undermining lending. Prime Minister Matteo Renzi's government is counting on acquisitions to modernize the industry and help the euro-area's third-largest economy recover from a three-year recession.
ECB Requests
Banco Popolare fell 3 percent at 11:30 a.m. in Milan trading, while Banca Popolare di Milano declined 2.6 percent. They have dropped about 45 percent and 25 percent, respectively, this year.
The combination is the biggest bank deal in Italy since Banca Monte dei Paschi di Siena SpA's 9 billion-euro acquisition of Banca Antonveneta SpA from Spain's Banco Santander SA in 2007. It will create a lender with a market value of about 5.7 billion euros, 171 billion euros of assets and more than 25,000 employees. The two banks expect pretax synergies of 365 million euros in 2018.

"The announcement is clearly positive, for the two banks and for the sector," Aldo Comi, an analyst at MainFirst Bank AG, wrote in a note. "The ECB's approach on corporate governance seems to have been less strict than feared, which could incentivize mergers and acquisitions among the other popolari banks."
Banco Popolare and Banca Popolare di Milano reached an agreement after adjusting the terms to meet requests by the European Central Bank. The Frankfurt-based central bank has been calling for a company with a strong capital position and transparent governance.
"I criticized the ECB's request for a capital increase because we would have been able to manage our bad loans without tapping investors," said Pier Francesco Saviotti, CEO of Banco Popolare. "We decided to do it to comply with regulators, because the finalization of the operation was the most important thing."
The combined lender plans to reduce its bad loans by 10 billion euros by 2019, cutting its nominal non-performing exposure ratio to 19 percent from 24.8 percent, Castagna said. Proceeds from the share sale will be used to increase the bad-loan coverage ratio at the new company, he said.
With some mergers resulting in weaker companies, Daniele Nouy, chairman of the ECB's supervisory arm, said on Wednesday that regulators want to "make sure that the new entity is strong from the very beginning."
Executive Team
Castagna will oversee the combined company, while Banco Popolare Chairman Carlo Fratta Pasini plans to take that role at the merged bank, the companies said. The new lender, whose name has yet to be determined, will be based in Milan with legal headquarters in Verona.
"We maintain a constructive approach on the merger," Giovanni Razzoli, an analyst at Equita SIM SpA, said in a note on Thursday. "The new entity, in relative terms, is better equipped -- thanks to cost savings -- to operate in the very challenging market environment, also thanks to a very strong capital base and reduced risk profile following likely non-performing loans disposals."
Mediobanca SpA and Bank of America Corp. agreed to underwrite the fund raising, which may come in one or more tranches and involve shares and convertible bonds. The capital increase should be completed by October.
'Necessary Step'
The agreement is the first since the approval last year of a law abolishing restrictions on ownership and voting rights, two longstanding obstacles to consolidation. Ten of the largest so-called people's banks were affected, leaving them more vulnerable to hostile takeovers, including from foreign companies.
Collectively, popolari represent about 25 percent of Italian deposits and loans, according to Assopopolari, their industry group.
For decades, foreign and institutional investors have spurned those banks because of limits on their ability to force change -- a throwback to the 19th century when such lenders were set up to serve communities. Popolare di Milano in 2008 failed to conclude a partnership with France's Credit Mutuel after months of negotiations. In 2007, it backed out of an agreement to buy Popolare dell'Emilia Romagna Scarl following opposition from labor organizations at the Milan-based bank.
In a letter sent to Banca Carige SpA, the ECB urged the lender to submit a new funding plan after its losses widened and deposits shrank. It also threatened to wind down Banca Popolare di Vicenza SCpA if it doesn't implement all steps of a reorganization plan. Monte dei Paschi CEO Fabrizio Viola also faces pressure to find a buyer for the troubled lender.
"The grouping of mid-sized banks is a necessary step to reinforce financial solidity and capital levels," Fabrice Masson, a fund manager at BFT Investment Managers, which has more than 20 billion euros under management, said before the deal was announced. This type of merger "might raise the prospect of the beginning of a new season of banking consolidation in Italy. The sector has evolved very little since the crisis."
Before it's here, it's on the Bloomberg Terminal.
LEARN MORE