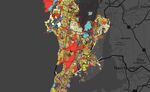 Mumbai is often referred to as the New York City of India, and for good reason. It's the financial hub of the country, and it's arguably the only city in the country that has a full-fledged seaside skyline—one that's set to become much higher in the coming years.
But in the rush to construct, corners have been cut on safety and environmental regulations. The municipal government has recently unveiled a revised plan charting the course of the city's urban development until 2034. But according to activists and academics, it leaves a lot to be desired, particularly in terms of transparency and accountability.
There's a lot that needs to be done to make the planning and development process less opaque to Mumbai's residents, who stand to lose the most when things go awry. A small step in that direction comes in form of an interactive mapping tool of the city's land-use data designed by Akshay Kore, a student of interaction design at the Indian Institute of Technology Bombay.
As a part of his thesis project, Kore created the map using datasets on the website of the Municipal Corporation of Greater Mumbai. The information is publicly available, but very hard to dig up and decipher. The idea, he writes on the website featuring the map, "is to enable faster and better decision making by means of data visualization, and set an example for all the city governments in the country."
Kore has taken special care to make sure the map is user-friendly, and included a how-to video for the less tech-savvy. And it is pretty simple: Just select a few color-coded datasets from the panel on the right, then add them as colored data layers on the map. You can also vary the lightness and saturation of the base map.
This is what the map looks with all datasets selected, for example:

Here's a close-up of the part of town near Juhu Beach:

And this is what the map looks like if I select the dataset that shows how much of the city is under construction, where the large swathes of slum areas and urban villages are, and where open spaces lie:

Kore has envisioned the tool to be an aid to city planners and activists. But if his datasets were explained a little bit better, it's pretty easy to see how concerned citizens and students could use the map to understand the state of their city's development process—and finally, get involved in it.