Amaya CEO Baazov Among Charged in Insider Trading Probe
by
Baazov denies allegations, vows to fight regulator's charges

13 other individuals receive search warrants, cease trades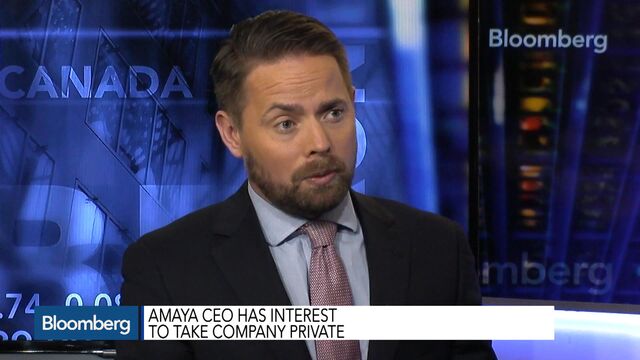 Amaya Inc. Chief Executive Officer David Baazov has been charged in an insider trading probe by Quebec securities regulators. Shares in the world's largest publicly held online poker company closed 21 percent down in Toronto.
Charges were also brought against Benjamin Ahdoot, Yoel Altman, Diocles Capital Inc., Sababa Consulting Inc., and a numbered company in Ontario, in the ongoing investigation into the Montreal-based company, the Autorite des marches financiers said in a statement Wednesday.
Baazov's charges include allegations of "aiding with trades while in possession of privileged information," influencing or attempting to influence the market price of securities of Amaya, and communicating privileged information, the regulator said.
"We have made suppressing illegal insider trading and market manipulation a top priority, as this type of conduct profoundly affects public confidence and the integrity of our markets," Louis Morisset, AMF chief executive said.
Amaya shot to investors attention after agreeing to acquire Isle of Man-based PokerStars for $4.9 billion in June 2014, transforming it into the biggest player in the global business of online poker.
'Vigorously Contest'
"These allegations are false and I intend to vigorously contest these accusations," Baazov said in a statement. "While I am deeply disappointed with the AMF's decision, I am highly confident I will be found innocent of all charges."
The company said in a statement it believed the allegations are without merit and expects Baazov to be fully exonerated. The allegations related to communication privileged information involved a former financial adviser at Amaya, while charges related to influencing or attempting to influence the market price of the company involve allegations related to the same adviser and an employee, the company said.
"David Baazov has the full support of the independent members of the board," said Dave Gadhia, Amaya's lead director said.
Separate Charges


Based on the AMF's investigation, the accused are alleged to have used privileged information pertaining to the securities of Amaya for trading purposes between December 2013 and June 2014. None of the charges have been proven in court.
If found guilty, the accused are liable to stiff fines as well as prison terms, the regulator said.
Separately, the Quebec regulator said it had executed search warrants and freeze and cease trades on 13 other individuals related to the case. Those parties are alleged to have realized a profit of close to C$1.5 million ($1.1 million) between 2011 and 2016 by communicating privileged information about potential mergers and acquisitions related to Amaya, the regulator said.
Amaya shares closed down 21 percent to C$14.75 in Toronto. The stock has fallen almost 60 percent since its most recent high in June 2015.
Takeover Offer
Baazov said he will continue with his plans to make a proposal to make an all-cash offer to acquire Amaya for an estimated purchase price of C$21 a share. He said he made the approach to the board of the proposal before the allegations were made against him.
"While I have no further comment on the bid process at this time, I am still committed to working with my investor group and the board to consummate a successful transaction, which I believe is in the best interests of shareholders," he said.
Before it's here, it's on the Bloomberg Terminal.
LEARN MORE