With Board Member Who Won't Leave, Valeant Is at Mercy of Bylaws
by and
Schiller blamed for 'improper conduct' at drug company

Allowing directors to remove board member seen as `dangerous'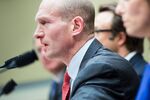 Valeant Pharmaceuticals International Inc.'s former chief financial officer and current board member Howard Schiller has been accused by the embattled drugmaker of misconduct, and yet the one thing the company can't get him to do is quit.
Schiller's unusual step of refusing to resign from the board, despite Valeant's request that he do so, could lead to fractures among directors. Valeant's bylaws specify that board members can be removed by a supermajority vote of other directors if he or she "ceases to be qualified to act as a director of the company."
That clause "is a bit vague," said Gary Hewitt, director of governance research at Amsterdam-based Sustainalytics, which provides research to investors.  
"Allowing directors to remove a fellow director is a bit dangerous because it can lead a board to silence a dissident voice," Hewitt said. "Shareholders should be the only ones with the right to remove directors."
The board of Laval, Quebec-based Valeant blamed Schiller for "improper conduct" that contributed to the company's financial misstatements and asked him to step down. He refused, saying he did nothing wrong and didn't engage in any improper conduct related to the restatements. Schiller remained a director after stepping down as CFO in April last year to pursue other business interests. The executive also came back for two months through the end of February to be interim chief executive officer, when now-departing Chief Executive Officer Mike Pearson was on medical leave.
Shareholders' Say
Governance experts say it's practically always the prerogative of shareholders to decide who gets to be on the board. However, when a corporate manager, including a CEO or CFO, is ousted, he or she is also expected to leave the board -- although there have been cases when the executive refuses to do so, at least at the time of firing.
"It doesn't happen very often, but it has happened," said Charles Elson, director of the John L. Weinberg Center for Corporate Governance at the University of Delaware.
When Charif Souki was ousted in December as CEO of Cheniere Energy Inc., following disagreements with activist investor Carl Icahn, he said he planned to stay on the board. Directors didn't have the authority to push him out and the company didn't have the power to do so until at least June, he said.
"They have done everything they can right now and removed me as CEO and chairman, but my position on the board is an elected position by the shareholders, and that doesn't come up until the next election in June," Souki said in December.
He didn't wait that long, however. On Feb. 18, he resigned from the board of the Houston-based natural gas terminal operator.
"It's just time to move on," he said at the time.
After a member has been asked to resign but stays on, the dynamic of the board can change.
"What happens in those situations when they don't leave is you typically will set up a special committee of the rest of the board and that committee will meet and direct the business," Elson said. "That committee would effectively meet to run the affairs of the corporation on a daily basis."
Sunbeam Flap
Elson was a director of Sunbeam Corp. when the former CEO and Chairman Albert Dunlap refused to leave the board for a few months after he was ousted by directors as head of the appliance company in 1998. Elson said his fellow directors dealt with the situation by setting up a special committee that met separately from Dunlap, who eventually stepped down.
Sometimes a board can call a special meeting to bring the matter to a vote, Elson said, but added that most of the time it's up to the shareholders -- rather than the board -- to decide if a director stays or goes.
Even so, Schiller's decision to stay is unusual in its own right.
Given that the stock has been crushed and "there are allegations that something has gone wrong with accounting," it's "extraordinary for the former CFO to say 'Hey, I won't resign,"' said S.P. Kothari, an accounting professor at MIT Sloan School of Management.
Before it's here, it's on the Bloomberg Terminal.
LEARN MORE