Watchmaker Tudor Says Hong Kong Market Could Get Even Worse
by
Mainland China demand is rebounding for Rolex's sister brand

Swiss watch industry might not grow in 2016: CEO Peverelli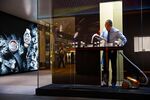 Tudor, Rolex's sister brand, said the Hong Kong market may get worse as rich Chinese shop for luxury goods in markets with lower prices.
Swiss watch exports to Hong Kong slid 25 percent in February, dropping for the 13th consecutive month, the Federation of the Swiss Watch Industry said Tuesday. There's no swift turnaround in sight, according to Philippe Peverelli, chief executive officer of Tudor.
"In mainland China we've already touched the bottom of the pool," Peverelli said in an interview at the Baselworld watch fair. Demand has been improving there since the second half of 2015. "As for Hong Kong, I've never seen such a deep pool. We haven't reached the bottom there yet."
The island city became the biggest export market for Switzerland's timepieces almost a decade ago, luring well-off Chinese with lower luxury taxes on the mainland. In the past three years, however, the Chinese government's crackdown on bribery and extravagance among government officials has weighed on the industry's sales in the region, and currencies have made watches cheaper in other markets such as Japan.
Last year Tudor got just under 60 percent of its sales from greater China, down from more than 90 percent in 2010. The company re-entered the U.S. and the U.K. in recent years and started selling its timepieces in duty-free retail shops in South Korea. The next country it plans to enter is Japan, which enjoyed a 22 percent gain in shipments last month.
Brussels Bombing
For this year, Peverelli anticipates a similar year to 2015 as currency volatility and terrorism make demand more difficult to predict. The November attacks in Paris dealt a blow to shopping from tourists, and Tuesday at least 31 were killed in three bombings in Brussels.
"We've never, ever had so many outside elements," he said. "Even in 2009, which was a very bad year for the Swiss watch industry, it was because of a financial crisis. We have more problems now. Maybe less dramatic, but we have a long list of problems. We may see flat growth this year."
Before it's here, it's on the Bloomberg Terminal.
LEARN MORE