U.S. Attorney Is Turkey Twitter Sensation Over Graft Probe
by
Preet Bharara charges gold trader at center of Turkish scandal

Reza Zarrab will `face American justice' soon, Bharara tweets
U.S. Attorney Preet Bharara has become an instant celebrity in Turkey after announcing charges against an Iranian gold trader at the center of a corruption scandal snuffed out under Turkish leader Recep Tayyip Erdogan.
"Reza Zarrab to soon face American justice in a Manhattan courtroom," Bharara, U.S. Attorney for the Southern District of New York, said on Twitter late Monday. Followers of his account have surged to more than 50,000 from fewer than 12,000 before his tweet.

Zarrab, who also has Turkish citizenship, faces up to 30 years in prison for bank fraud, 20 years for money laundering, and 20 years for conspiracy to evade U.S. sanctions against Iran, according to an indictment published by Bharara's office. He was arrested March 19 in Miami and hasn't been offered bail, a spokeswoman for Bharara said. Seyda Yildirim, Zarrab's lawyer in Turkey, didn't respond to requests for comment on Tuesday.
Allegations of corruption against Zarrab are nothing new in Turkey, where he's known as a key figure in a 2013 graft scandal in which prosecutors accused him of bribing cabinet members over an elaborate gold-trading scheme worth at least $12 billion. A trial could put in the public realm details of the case, which then-Prime Minister Erdogan branded an attempted coup, purging thousands of police officers, judges and prosecutors in a judicial crackdown.
"Those who couldn't find what they hoped for here are hoping to get it over there," said Cagdas Sirin, an economics professor at Bahcesehir University in Istanbul, as some Turks expect that allegations swept away at home will be punished in the U.S.
Twitter Popularity
The explosion of interest on Twitter also reflects the platform's growing popularity as the government steps up censorship of traditional media, Sirin said by phone on Tuesday. "In places where people's freedom to access information decreases, Twitter usage and its social impact rises," he said.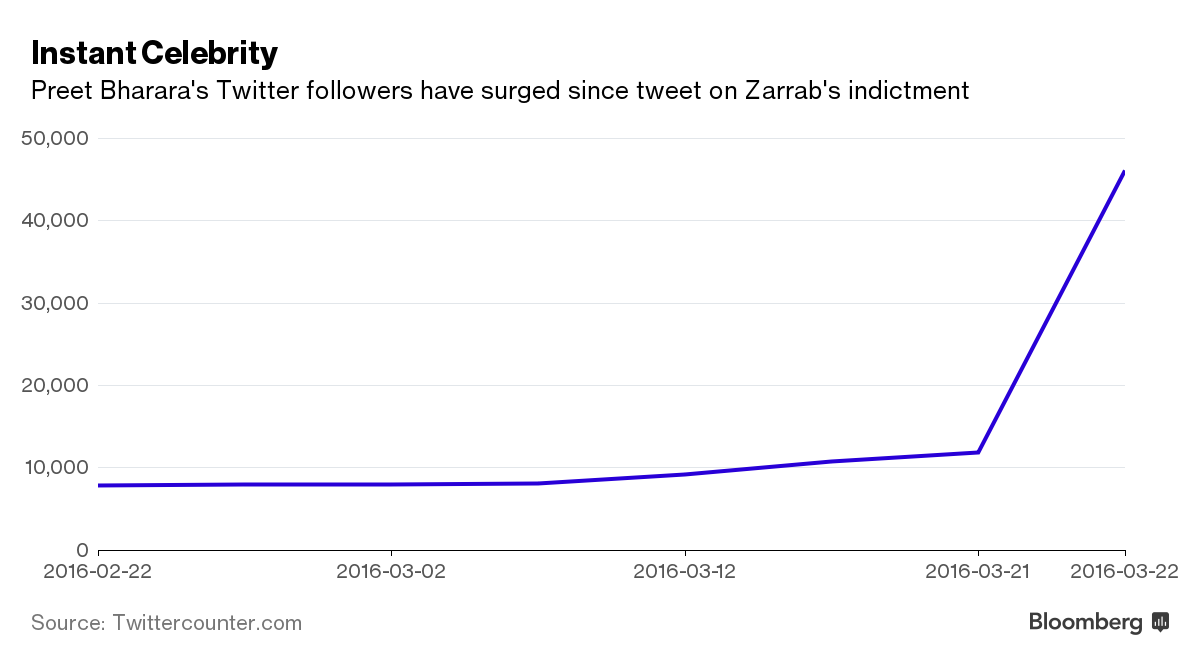 Bharara, an Indian-born graduate of Harvard College and Columbia Law School appointed by President Barack Obama in 2009, has gained prominence for his high-profile prosecutions of insider trading, financial fraud and public corruption in the U.S. He was responsible for establishing a unit to focus on "large-scale, sophisticated financial frauds," according to his office's website.
He's brought investigations into Galleon Group for insider trading, resulting in an 11-year sentence for hedge fund manager Raj Rajaratnam, into Citibank for providing misleading information on risky loans and JPMorgan over its involvement in the Bernie Madoff pyramid scheme. A Bank of America probe over mortgage fraud ultimately led to a record $16.65 billion settlement. He also prosecuted arms trafficker Viktor Bout, who received a 25-year sentence.
The financial cases won Bharara a spot on the cover of Time magazine in 2012 under the headline, "This man is busting Wall Street."
His latest target is Zarrab, who along with two accomplices engaged in "hundreds of millions of dollars' worth of transactions" that were barred by U.S. sanctions, according to the indictment published by Bharara's office.
Laundering
"By allegedly laundering money through institutions around the world, Reza Zarrab, Camelia Jamshidy and Hossein Najafzadeh undermined the U.S. sanctions regime imposed against Iran, and committed federal crimes," Bharara said in a statement.
A deal between Iran and world powers last year led to most financial sanctions being removed.
Prosecutors in the Zarrab case in Turkey were removed and subsequently charged, prompting the two lead attorneys, Celal Kara and Zekeriya Oz, to flee the country.
Turkey blocked Twitter in the aftermath of the Zarrab probe in 2014, until the move was ruled unconstitutional, and the country regularly ranks top of Twitter's own list of requests from governments to censor tweets.
Before it's here, it's on the Bloomberg Terminal.
LEARN MORE