Trudeau Stimulus Plan Puts Canada C$120 Billion Into the Red
Josh Wingrove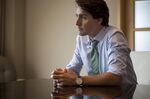 Prime Minister Justin Trudeau will run deficits totaling almost C$120 billion ($91.7 billion) over six years, offering some stimulus to Canada's struggling economy while trying to exercise restraint.
Trudeau's government will add C$11 billion in annual spending for the fiscal year that begins April 1, which will result in a projected deficit of C$29.4 billion for the coming year. The federal budget offers no projected return to balance over five years.
That cumulative deficit, which far exceeds what Trudeau promised in last year's election campaign, stems from the worsening outlook his Liberals inherited even as they rejected calls for major new stimulus. It also marks a shift for Canada, which was home to an anti-deficit orthodoxy for three decades.
"Our plan is reasonable and affordable," Finance Minister Bill Morneau said in his budget speech Tuesday, which focused heavily on new spending measures. "Today, we are seizing the opportunity to invest in people and the economy, and to prepare Canada for a brighter future."
Trudeau had faced calls from some economists for even more new spending in order to take advantage of interest rates that are near historic lows as monetary policy loses its bite. While the measures detailed Tuesday are forecast to give gross domestic product a 0.5 percent bump in 2016, the Liberals steered clear of loftier deficits.
'Double Down'
"For those looking for the government to double down on earlier stimulus pledges, they will be disappointed," National Bank Financial Economist Warren Lovely said in an interview. "It's stimulus on a modest -- to at most moderate -- scale. This isn't shock and awe fiscal stimulus."
Morneau's plan projects growth of 1.4 percent in fiscal 2016, and 2.2 percent in the two following years. It assumes an oil price of $40 a barrel this year and $52 a barrel in the next. It also builds in an unallocated contingency fund of C$6 billion per year in case growth is sluggish. If not, Morneau told reporters the government could return to balance within five years.
The cornerstone of Trudeau's budget is an overhaul of child-benefit payments, with a net cost of C$4.5 billion in 2016-17, which the government expects will lift 315,000 children out of poverty in what Morneau called the "most significant social policy innovation in a generation." Canada will also provide C$8.4 billion over five years in new funding for its indigenous communities.
Anchors Aweigh
The prime minister had campaigned on three fiscal pillars, and Tuesday's budget document confirmed they have all been cast aside.
One was a deficit cap of C$10 billion in the first two years of his mandate; he's now forecasting deficits of C$29.4 billion and C$29 billion, respectively. The second was that Canada's debt-to-GDP ratio would consistently decline; instead, it will jump to 32.5 percent from 31.2 percent in the fiscal year that ends March 31, still very low by global standards. Finally, he pledged to return to balance by 2019-2020; he now projects a C$17.7 billion deficit that year, when the next election will likely be held.
Trudeau broke his word, Conservative Leader Rona Ambrose said. "My concern is that taxes are going up. It's not that they're going up, they've gone up today."
To keep deficits manageable, Trudeau has revised pledges made during last fall's election. Infrastructure was a centerpiece of his campaign but first-year spending will total C$4 billion, down from the C$5 billion promised in the Liberal platform. Trudeau will also defer C$1.6 billion in planned military spending until at least 2021.
Business Taxes
The Liberals will freeze the small business tax rate at
10.5 percent, canceling a planned deduction to 9 percent they had campaigned on. They also campaigned on raising the tax on stock options but Tuesday's budget made no mention of that and Morneau said it is no longer in the government's plans. That will come as welcome news to executives in Canada's technology sector who warned it would hurt their ability to attract and retain staff.
Trudeau's government will revise Employment Insurance rules as Canada's energy sector continues to struggle. The federal government will extend the availability of benefits in commodity-producing regions to as many as 70 weeks. Canada will reduce the overall EI waiting period to one week, from two, beginning in 2017 and reverse changes made by the previous Conservative government that restricted eligibility. The EI changes will cost C$2.5 billion over the next two fiscal years.

Trudeau has also pledged C$4.6 billion over three years -- including C$3.7 billion that the budget books in the fiscal year that ends March 31 -- in new funding for war veterans.
The federal government is pledging C$2 billion over two years for provinces and territories to reduce greenhouse gas emissions, beginning in 2017. That money comes after a meeting with premiers this month failed to produce a consensus on national carbon pricing. Trudeau is also planning to spend another C$2.1 billion over two years on other environmental and clean-energy measures.
Borrowing Spree
Globally, Trudeau will increase foreign aid by C$128 million per year and bring in another 10,000 Syrian refugees at a cost of C$240 million.
To finance this spending, Canada will issue C$133 billion in bonds this year, 30 percent above the previous record set in 2009 after the global recession. Canada is focusing the borrowing on bonds between two and five years in length -- similar to how former Prime Minister Stephen Harper structured his with an eye toward returning to balance, rather than turning to longer-term bonds to lock in rates for longer.
"This is huge stimulus, considering the economy is not in recession," said Philip Cross, a former chief economic analyst at Statistics Canada. In his view, it's too much borrowing considering the global economic risks. "Can we afford to do this all at once?"
(Updates with opposition comment in 11th paragraph)
Before it's here, it's on the Bloomberg Terminal.
LEARN MORE