Five Things You Need to Know to Start Your Day
Get caught up on what's moving markets.
by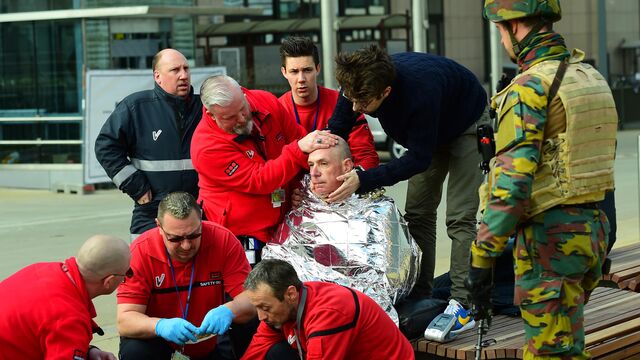 Want to receive this post in your inbox every morning? Sign up here
Terror attacks in Brussels. Here are some of things people in markets are talking about today.
Terror attacks
There were two explosions in the Brussels airport's departure area at 8 a.m. local time this morning and at least one explosion on the city's subway network an hour later, causing deaths and injuries. Flights in and out of the airport have been cancelled for the rest of the day and the city's subway and bus networks have been closed. Full coverage of the latest developments in this story on our website and live on Bloomberg TV.
Market reaction
Initial market reaction has seen investors shift to so-called safe haven assets, with German bonds and U.S. Treasuries advancing. Hotel and airline stocks slid on European markets with EasyJet Plc, Air France-KLM Group, and Ryanair Holdings Plc all dropping more than 4 percent. The Stoxx Europe 600 index was 0.7 percent lower at 9:35 a.m London time. The yen strengthened and gold was higher. S&P 500 futures retreated 0.2 percent.
Sterling sell off 
The British pound suffered the biggest currency-market impact in the immediate aftermath of the Brussels attack amid speculation that the tragedy will boost the case for campaigners who want the U.K. to quit the European Union. The currency dropped 0.6 percent to $1.4282 as of 9:20 a.m. London time and also weakened against the euro. With just three months left before the referendum on EU membership, Moody's Investors Service have warned that a vote in favor of leaving would lead to a slower economy and ratings downgrades. 
iPhone launched, case suspended
Apple Inc. unveiled a new, smaller iPhone at an event yesterday at the Cupertino, California, headquarters. The new phone is seen as a push by the company to expand its share of the high-growth Chinese and Indian markets. The court hearing scheduled for today over a magistrate judge's order requiring Apple to help the FBI bypass the security on a terrorist's iPhone was canceled at the Justice Department's request after the government said it wanted to test a possible method for accessing data on the phone without the company's help. Shares in Apple closed unchanged yesterday.
Valeant drama
Shares in Valeant Pharmaceuticals International Inc. closed 7.5 percent higher yesterday after the company announced that Chief Executive Officer Mike Pearson will step down and that Bill Ackman will join the board. With shares in the troubled company down more than 70 percent this year, Ackman addressed employees to reassure them of the company's future. 
What we've been reading 
This is what's caught our eye over the last 24 hours.
Before it's here, it's on the Bloomberg Terminal.
LEARN MORE