Technical Analysts Are Warning That This Stock Rally Is Not Going to Last
UBS AG warns clients to take profits now.
by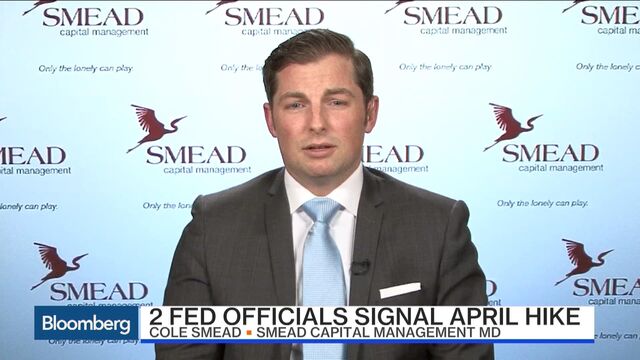 U.S. stocks are up a stunning 12 percent from their February depths, yet plenty of doubts persist about the strength of the recent rally.
Some have attributed the recent increase to a need by investors to buy equities to cover so-called short positions. Others have warned that corporate buybacks have pushed the market to unsustainable price levels. Meanwhile, technical analysts who look at charts to divine the direction of stocks have joined the doubters; some are urging clients to proceed with caution when it comes to U.S. equities.
Analysts at Bespoke Investment Group noted that while the latest rally has pushed more than 93 percent of stocks in the S&P 500-stock index above their 50-day moving averages—which smooths out price moves over the past 50 days—there may yet be cause for concern. The strongest moving average reading since the start of the bull market in 2009 is not necessarily a bullish sign for markets, they warned, as it could indicate that stocks have surged past fair value.
"In the coming weeks we expect this breadth measure to cool off a bit as the market works off extreme overbought measures. If you've been waiting to buy and haven't yet, it's best to wait for a pullback at this point," Bespoke analysts wrote in a note.

Still, Bespoke is far from bearish. The research firm points out that greater breadth is positive for the market's strength over a longer-term time frame.
"Strong breadth is a sign that all stocks are participating instead of just a few," the team said. "This action is the complete opposite of the weak breadth we saw in the early part of last year when the S&P 500 was making new highs but fewer stocks were doing the same. Eventually, we saw a significant correction later in the year." 
Technical Analysts at UBS AG seem far less optimistic.
"With the rally of the last few weeks and looking at our daily trend work, the S&P 500 has reached its most overbought position since 2009!!" analysts Michael Riesner and Marc Muller said in their sales and trading commentary, with added grammatical emphasis. "We see the market vulnerable for a significant reversal this week, which we would see as the beginning of a tactical top building process and subsequent correction into deeper [second quarter]. We reiterate ... [that we] would not chase the market on current elevated levels."
They recommend that investors sell now, rather than await further price increases.
Before it's here, it's on the Bloomberg Terminal.
LEARN MORE