Baltimore Scraps Its Waste-to-Energy Plan
Plans for an incinerator in South Baltimore have been halted, and the community could be better off that way.
By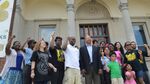 A years-long, youth-led campaign to prevent the construction of a waste incinerator in the south Baltimore neighborhood of Curtis Bay has inched closer to victory.
Last week, the Maryland Department of the Environment alerted the New York-based company Energy Answers International that its permit to build an incinerator that would convert trash into energy is no longer valid. The proposed plant would generate 160 megawatts of electricity by burning an estimated 4,000 tons of solid waste per day. The facility would spread over 90 acres, making it the largest incinerator in the U.S. if built, according to the Environmental Integrity Project.
The incinerator would also sit just a stone's throw from a number of schools and parks, not to mention hundreds of homes that are already in close proximity to a cluster of pollution-producing facilities. This is why students from those schools and their families have been protesting the construction of the waste-to-energy plant since Energy Answers began building it in August 2013. The Curtis Bay neighborhood already suffers the worst levels of air pollution in the state.
The map and chart below, created using the EPA's EJ SCREEN mapping application, shows that the area within a mile of the proposed incinerator site registers extremely high levels of ozone and particulate matter emissions. Both of these air pollutants are responsible for asthma and respiratory disease-related deaths, especially among children and people of color. It may even play a role in increasing urban violence.


The neighborhoods around the planned incinerator also are dense with old housing containing lead-saturated paint, which increases health risks tied to toxic lead exposure.The Flint water disaster has heightened the nation's awareness about the dangers of lead contamination. Consider in that context that the incinerator was permitted by the state to release up to 1,000 pounds of lead into the air yearly, along with 240 pounds of mercury, as the Chesapeake Physicians for Social Responsibility's Gwen Dubois wrote in a Baltimore Sun op-ed last November.
Dubois says that Curtis Bay and neighboring communities of Brooklyn and Hawkins Point have higher levels of heart disease, lung cancer, respiratory disease, and diabetes than the rest of the city.
"Is it related to the pollution? I believe it is," Dubois tells CityLab. "Can I prove it? No. Do I think we ought to put more pollutants in the air that cause these things? No. Are our own citizens benefitting from it? No."

The United Workers began working with a group of students in the neighborhood, banded under the name Free Your Voice. The kids learned from organizers about the potential dangers of the incinerator and helped the group  rally against Energy Answers' plans. The youth group held marches, went door to door gathering signatures for a petition, and flooded public meetings with artistic performances to express their opposition.
They scored a huge victory in February 2015 when the Baltimore Regional Cooperative Purchasing Committee pulled out of an agreement to buy energy from the future plant. The city of Baltimore then pulled its support a month later, leaving Energy Answers without two of its biggest customers for the $1 billion project. Still, the company refused to halt its plans.
The Free Your Voice group led a march to Maryland's Department of the Environment offices last December to deliver a petition signed by thousands who opposed the waste-to-energy plant. A few people were arrested during that delivery, including Dubois, for refusing to leave the premises. In January, a United Nations working group toured the site as part of a U.S. visit, then criticized the state in its report back:
The highest polluting industrial facilities, across a range of sectors from farming, mining to manufacturing, are more likely to be situated in poor and minority neighbourhood, including those of people of African descent. For instance, we are concerned about the possible health risks to people of African descent on account of the incinerator project in Curtis Bay, Baltimore and the lead contaminated water in Flint, Michigan. African American communities are calling for environmental justice as they are concerned that they are disproportionately exposed to environmental hazards impacting their health and standard of living.
All of this played a role in the state's decision to invalidate Energy Answers' permit last week, but so did the actions of the company itself. As noted in the state's letter explaining the permit revocation, Energy Answers failed to do any construction at the project's site since October 31, 2013. Under the permit rules, a company can't let construction stall for longer than 18 months. This March marks month 29 with no activity on the 90-acre lot, putting Energy Answers well over the time limit.
The environmental department's suggestion to pull the permit now sits with the state's public service commission, which will make the final decision. It hadn't yet scheduled a public hearing on the matter as of March 21, but the commission's communications director, Tori Leonard, says she expects them to take it up on March 30. Until then, the project is, as DuBois puts it, "on ICU until a doctor comes and declares it dead."
If such a declaration is made, it will be the second waste-to-energy plant killed off in the Baltimore region within a month. An incinerator that's been running in Harford County, just northeast of Baltimore County, closed on March 17 after operating for 30 years.  
Now, is waste-to-energy technology bad in general, or just bad for Baltimore? If it involves combustion—burning solid wastes—then it is bad in general, says the Environmental Integrity Project attorney Leah Kelly, who studied the issue for a 2011 report. There are a number of waste-to-energy plants operating or in development in other states and countries, and using other energy-extracting processes like gasification. But when using combustion, Kelly says she's "never heard of one that burns trash cleanly."
The Free Your Voice kids of Curtis Bay, meanwhile, are hoping that the would-be incinerator site will instead be used by companies that can bring cleaner, greener jobs to the community.
"Community members have been working to bring truly green, community-driven, positive alternatives like solar, recycling, and composting that provides good jobs for residents and doesn't put our lives at risk," says Destiny Watford, one of the teens leading the effort. "The incinerator was holding us back from that positive vision."