Nasdaq Edges Higher on Drugmakers Amid Longest Rally Since April
by
Biotechs, Apple shares gain to offset travel-related declines

Dow average slips, snapping longest rally since October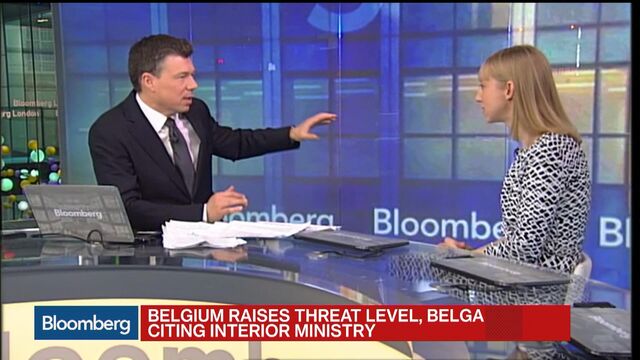 The Nasdaq Composite Index edged higher in light trading, giving the index a fifth straight gain and its longest advance in 11 months, while travel-related shares helped drag the Standard & Poor's 500 Index lower after a deadly terrorist attack in Brussels.
Nasdaq rose 0.3 percent to 4,821.66, pushing its climb over five days to 2 percent. The rally has come amid the lightest trading volume of the year, and delivered just one day of gains for the technology-heavy index that topped 0.7 percent. Other major indexes were little changed after briefly erasing losses sparked by bombings at the Belgian capital's airport and a subway station that killed at least 31 people.
The S&P 500 slipped 0.1 percent to 2,049.80 at 4 p.m. in New York, declining for the first time in five days. The Dow Jones Industrial Average fell 41.30 points, or 0.2 percent, to 17,582.57. The gauge erased a 0.5 percent drop before losing momentum in the final hour to halt the longest winning streak since October.
"The market appears to be more resilient than you'd expect after a terrorist attack," said Michael Antonelli, an institutional equity sales trader and managing director at Robert W. Baird & Co. in Milwaukee. "They're horrible to see, but it's a weird world and you see these kind of events and they're not as shocking anymore. It's a quiet, slowish market where we're digesting the news."
Activity was light again in the holiday-shortened week after yesterday marked the lowest volume this year. About 6.2 billion share traded hands on U.S. exchanges Tuesday, 29 percent below the 2016 average. That follows two of the year's slowest sessions last Monday and Tuesday before the Federal Reserve meeting. U.S. stock markets will be closed in observance of Good Friday.

In the face of the Brussels attacks, equities lost little ground amid a five-week rally bolstered by improving economic data, rising crude prices and optimism that central banks around the world will continue to support growth. It's another indication of the market's wherewithal after the S&P 500 erased the fallout from a tumultuous start to 2016, rebounding 12 percent since its February low and turning positive for the year last week.
"Usually with these types of events, the second time around the impact on volatility is much less than the first time around," said Michael Purves, chief global strategist at Weeden & Co. in Greenwich, Connecticut. "These are unfortunately almost semi-expected at this point. The markets are getting to the point where they even ignore it. A terror attack is a tragedy, but it's not a tragedy for the markets."
Transportation companies were the hardest hit, with Delta Air Lines Inc. and American Airlines Group Inc. down more than 1.4 percent. Railroad Union Pacific Corp. lost 2.3 percent. Offsetting those declines, Amgen Inc. increased 2.5 percent to a one-month high and Pfizer Inc. added 1 percent, spurred by a rebound in Valeant Pharmaceuticals International Inc. Apple Inc. increased 0.8 percent to buttress the technology group.
Monthly Gain
The main U.S. equity gauge is poised for the first monthly increase since November, which would halt the longest streak of declines since 2011. Worries over China's slowdown and routs in oil and banks had dragged the S&P 500 last month to the lowest level since 2014. It's now among the top three best-performers this year for developed-market benchmarks tracked by Bloomberg.
Despite the recent rebound, Bank of America Corp. said today that clients were net sellers of $1.4 billion of U.S. stocks in an eighth consecutive week of selling, the longest client-selling streak in five years. That suggests investors still doubt the sustainability of the rally, strategists at the firm said.
The Chicago Board Options Exchange Volatility Index rose 2.8 percent Tuesday to 14.17, after closing yesterday at a seven-month low. The measure of market turbulence known as the VIX is on its way toward a sixth weekly retreat which would be the longest since 2008.
The S&P 500 slipped for the first time since the Fed last week signaled a slower pace for interest-rate increases. Traders are pricing in a 46 percent probability for a boost to borrowing costs at the central bank's June meeting, down from about 54 percent before the Fed released a revised economic outlook last Wednesday. Chicago Fed President Charles Evans said today policy makers rightly refrained from raising rates this month after a rocky start to the year clouded the economic outlook.
Seven of the S&P 500's 10 main industries fell Tuesday, with consumer staples shares slipping the most, down 0.8 percent. Health-care companies gained for a third session, rising 0.9 percent, while technology and raw-material shares also edged higher.
Drug Stocks
Health-care shares extended a three-day gain to 2.7 percent, led by drugmakers. The Nasdaq Biotechnology Index rose 2.6 percent to a two-week high, while an S&P biotech gauge added to its longest rally since November.Akorn Inc. surged 41 percent, the most in 12 years, after reporting preliminary results for 2015 and forecasts for the current fiscal year.
Valeant Pharmaceuticals added 10 percent, bringing its two-day gains to 18 percent, the most in a comparable period since December as it rebounds from a 61 percent plunge last week.
Technology stocks rose for the eighth straight day, the longest in two years, with Apple's 0.8 percent gain contributing the most to the group's advance. Western Digital Corp. increased 4.2 percent to a two-month high. Qorvo Inc. added 2.2 percent to the highest this year.
Royal Caribbean Cruises Ltd., Carnival Corp. and Priceline Group Inc. sank more than 2 percent following the Brussels bombings. Lodging companies Marriott International Inc. and Wyndham Worldwide Corp. fell at least 1.1 percent.
Airlines weighed on a group of industrial stocks, which decreased 0.3 percent. The Bloomberg U.S. Airlines Index slid 1.2 percent, paring an earlier 2.2 percent drop, with Delta and American Airlines slumping the most in two weeks.
Modelez International Inc., Hershey Co. and Campbell Soup Co. each lost at least 1.5 percent to lead consumer staples lower. Thirty-three of 37 staples stocks in the S&P 500 fell as the group dropped the most in three weeks.
Banks slipped for the first time in four sessions, though the worst declines in the group were less than 0.7 percent. In the broader financial industry, Host Hotels & Resorts Inc. sank 2 percent while Goldman Sachs Group Inc. lost 1.3 percent.
Before it's here, it's on the Bloomberg Terminal.
LEARN MORE