Possible Aircraft Debris Picked Up on South Africa's Coast
by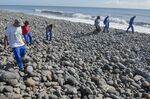 The South African Civil Aviation Authority will collect debris found on the country's south coast to determine whether it is airplane wreckage that may be from a Malaysian passenger jet that disappeared more than two years ago.
"We have been in touch with the gentleman that picked up what could be aircraft debris in the Western Cape" province, said Kabelo Ledwaba, a spokesman for the authority. "If it indeed belongs to an aircraft, we will hand it over to Malaysian authorities."
Reports suggest that the item could be from the "inlet cowling" of an aircraft engine, Malaysian Transport Minister Liow Tiong Lai said in an e-mailed statement earlier. The debris was found near the town of Mossel Bay.
A Boeing Co. 777 operated by Malaysian Airlines vanished from radar on March 8, 2014, en route to Beijing from Kuala Lumpur. There has been no trace of the 239 people on board Flight 370 and the flight's disappearance has become modern aviation's biggest mystery.
Before it's here, it's on the Bloomberg Terminal.
LEARN MORE