Osborne Says No Decision on U.K. Budget Plans Until Year-End
by
Chancellor says $17 billion of welfare savings being sought

Osborne says he has listened and learned over disability cuts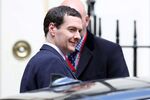 U.K. Chancellor of the Exchequer George Osborne put off a decision on whether to plug the hole in his budget plans left by his retreat over welfare until the end of the year as he acknowledged that his planned cuts to disability benefits had been a mistake.
Stopping short of delivering an apology, as demanded by the Labour opposition, Osborne sought to undo the damage done by his controversial budget last week, which sparked the resignation of a senior Tory cabinet minister and calls for the chancellor to step down.
He said the effect of his decision not to proceed with the cuts would be set out in his Autumn Statement and confirmed the government would make no further welfare savings beyond those already announced.
"Where we've got things wrong we listen and we learn," Osborne told lawmakers Tuesday as he became the first chancellor in two decades to open the final day of budget debate in Parliament. "We don't have further plans to make welfare savings to replace the billion more we will spend on personal independence payments."
Osborne is facing the toughest test of his political career. Until recently the favorite to replace David Cameron as prime minister, the furore over the disability cuts, which were announced alongside a tax cut for middle earners, has seen the chancellor's approval ratings plummet.
Osborne said the Welfare Reform and Work Act already committed to the 12 billion pounds ($17 billion) of welfare savings pledged by the Conservatives in the run-up to the 2015 election. "We're going to focus now on implementing that," he said.
A poll published by YouGov Plc on Tuesday showed 67 percent of the public now believe Osborne won't be the next prime minister.
Lawmakers voted to approve the budget by 310 votes to 275, giving the government a majority of 35.
Before it's here, it's on the Bloomberg Terminal.
LEARN MORE