Nike's Tepid Forecast Disappoints Investors
by
Sales growth seen trailing 10 percent consensus estimate

Company needed to 'blow it out' and didn't, analyst says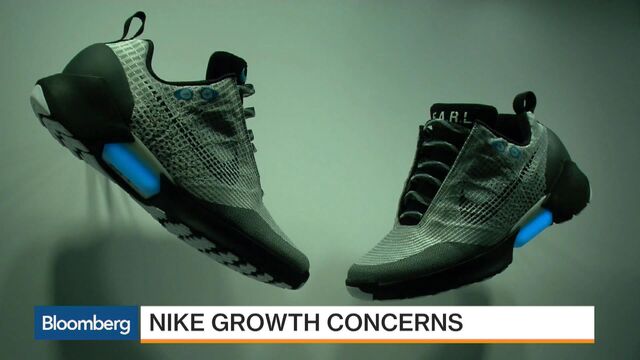 Nike Inc. fell after its annual forecast missed analysts' estimates, raising concerns about growth at the world's largest sporting-goods maker.
Sales will increase by a high-single-digit percentage during the next fiscal year, the company said on a conference call Tuesday. Analysts had projected a rate of about 10 percent for that period. Earnings will rise in the low teens, Nike said, compared with an estimate for growth of about 15 percent.

Nike is facing challenges on multiple fronts. The strong U.S. dollar is hurting sales overseas, and competition from Under Armour Inc. is adding more pressure at home. The Beaverton, Oregon-based company also is coping with sluggishness in some overseas economies after years of strong growth. Still, its business in China is booming, bucking a broader slowdown in that country.
The shares declined as much as 5.8 percent to $61.15 on Wednesday. Nike had gained 3.8 percent this year through the close on Tuesday.
Revenue missed analysts' estimates in the company's third fiscal quarter, hurt by currency headwinds. Sales rose 7.7 percent to $8.03 billion in the period, which ended Feb. 29, the company said. Analysts estimated $8.2 billion. Excluding currency shifts, sales would have gained 14 percent last quarter.
Futures orders in emerging markets -- an indicator of sales in those economies -- were up 14 percent, excluding currency effects. Analysts had estimated 16.1 percent.
High Hopes
"Expectations were high, so they have to nail it or blow it out -- and they didn't," said Brian Yarbrough, an analyst for Edward Jones. "Any hiccup can cause this kind of reaction in the stock."
Even as sales grew more slowly than predicted last quarter, profit beat estimates. Earnings climbed to 55 cents a share in the period -- helped by a lower tax rate from more earnings coming outside the U.S., where levies are lower. Analysts predicted an average of 49 cents, according to data compiled by Bloomberg. The results marked the 15th straight quarter that Nike has beaten profit projections, dating back to the middle of 2012.
In North America, futures orders rose 10 percent, excluding currency effects. Analysts estimated 11.6 percent. The company said it's making "good progress" on reducing excess inventory in the region by selling items through its outlet stores and other discount chains.
They grew 17 percent worldwide by that measure, exceeding a projection of 16.1 percent.
'More Competitive'
"The U.S. market is becoming more competitive," said Chen Grazutis, an apparel and footwear analyst for Bloomberg Intelligence. Under Armour has seen success pushing into footwear, and Adidas AG is putting more resources into the region, he said.
Nike's China business continued to roll along, despite economic growth in that region slowing down. Sales rose 23 percent, and orders advanced 28 percent -- by far the best performance of any Nike geographic division.
"The quarter was mixed, but more positive than negative," Grazutis said. "What they're doing in China is very impressive."
Before it's here, it's on the Bloomberg Terminal.
LEARN MORE