Myanmar's Suu Kyi Nominated for Cabinet Post in New Government
by and
Local media reports Suu Kyi will take foreign affairs post

Suu Kyi is constitutionally barred from serving as president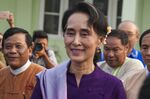 Myanmar's president-elect nominated Aung Sang Suu Kyi for at least one position in his incoming cabinet, indicating the Nobel peace laureate wants a formal role in the government she has pledged to lead.
Htin Kyaw included the National League for Democracy leader's name on a list of 18 people he proposed for cabinet positions to parliament Tuesday, though the ministries they would head were not specified. Local media reported that Suu Kyi would take the foreign affairs, president's office, energy and education portfolios.
Despite her party's landslide victory in November's election, Suu Kyi is constitutionally barred from serving as president. Her party chose her close aide, Htin Kyaw, to take the position in her place, though they have said she will still run the government.
Suu Kyi, 70, and her party are longtime opponents of the generals who ruled Myanmar until 2011, when they handed power to their political arm. Her party has been vague about its plans once the handover from President Thein Sein's government is completed on April 1.
While its election manifesto covered everything from the economy to education to ethnic relations, the document included few concrete details. Until Tuesday, there had been little indication of who the party would select for cabinet positions.
Party Leadership
If Suu Kyi's nomination for a cabinet post is approved in a parliamentary vote expected later this week, she will need to step down from her role as party leader and also as a lawmaker. It had been unclear whether she would be willing to give up leadership of the party she helped found more than 25 years ago.
If Suu Kyi were to take on the role of foreign minister, she would gain a seat on the National Defense and Security Council. The board, which was created in the departing junta's constitution, is packed with military appointees and could potentially exercise broad power over the elected government.
The generals also retain management of the defense, interior and border affairs portfolios, giving them control of the nation's security apparatus.
Before it's here, it's on the Bloomberg Terminal.
LEARN MORE