Autos
How Boring Old Buick Is Crushing the Luxury Car Market
Savvy marketing and a tiny SUV have put the once-staid brand in the fast lane.
by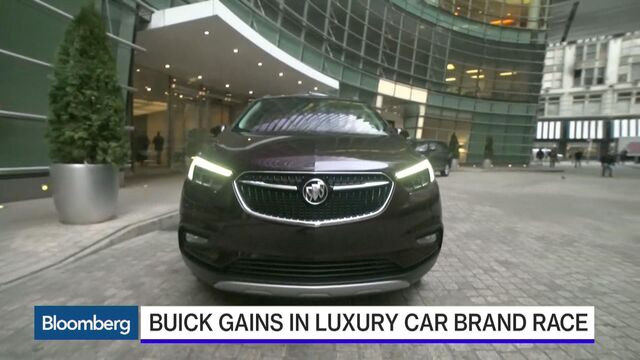 When General Motors unveiled its new Cadillac SUV in September, it dangled the vehicle from a helicopter and flew it over a phalanx of spotlights at a Fashion Week party in Manhattan. On Tuesday, the company plans to introduce its new Buick Encore—during lunch.
The subtext is clear: Cadillac is back! Buick is, well, still here.
The irony is that these days, the neglected sibling is getting better grades and is arguably more popular. Over the past three years, Buick posted a 43 percent increase in global sales, due in large part to how fond Chinese drivers are of the brand, which sold more than 1 million vehicles in that all-important market last year (even Pu Yi, the last emperor, was a Buick man). But the brand has been surging stateside as well. Since 2012, Buick posted a 23.6 percent increase in U.S. sales, outpacing luxury rivals Lincoln, Infiniti, BMW, and even its sister brand, Cadillac. Last year, Buick outsold Audi in America as well. (Achtung, Volkswagen.) 

With the model it introduces today, Buick may further close the gap on luxury car giants Mercedes and Lexus:

What's behind this renaissance? Car companies live and die by two measures, product and pricing. In the past few years, Buick executives have been prescient on both counts by employing a simple strategy: Do what the others aren't. "Our history as a brand is attacking this white space, where there isn't a lot of competitive intensity," said Tony DiSalle, Buick's U.S. vice president of sales, service, and marketing.
When it comes to product, much of the recent success is tied to today's lunchtime reveal (at an event space on Manhattan's west side) of the Encore, a tiny SUV that makes little sense in 2016 and made even less sense in 2009, when Buick started designing it. The small frame makes it look like a bear cub, albeit a shiny one. It's too tall to drive particularly well and too short to carry much cargo. Its best qualities are that it is quiet and a breeze to park. Apparently, that's enough because it's selling like mad.
Most car companies are making similar, so-called cute-utes these days. There's the Mazda CX-3, the Nissan Juke, and the Kia Soul. Last year, Jeep joined the pint-sized party with the Renegade, and Honda rolled out the HR-V. Despite all the competition, though, Buick's version remains the bestselling vehicle in one of the car industry's fastest growing segments. Last year, Americans bought almost 68,000 of the tiny trucks, more than sales for any other Buick.

The brand also took a unique approach to pricing. With interest rates hovering near zero while car sales climbed, auto executives have gone to extremes with sticker strategies. Striving brands such as Cadillac pushed prices up to signal to consumers that their vehicles were on par with the German brands, while leaders in the luxury game started selling relatively cheap, stripped-down models to hook younger drivers.
Buick did neither. It just cruised along in the middle lane, between the starter sedans and the swanky, $60,000 stuff. If anything, it knocked its prices down a bit to come in below such second-tier luxury brands as Lincoln and Acura.
"We call it mainstream-plus," said Eric Lyman, vice president of industry insights at TrueCar. "It makes it a little more difficult for people to get their head around what Buick represents, but that's an opportunity for them, too."

Make no mistake. This approach is very unusual in the car-selling game, a business built on superlatives: Every model is pitched as faster, safer, cheaper, more exclusive, or—at the very least—cooler than its competitive class. Skipping the comparison altogether is virtually unheard of.
With Buick, the middle-of-the-road approach came naturally. For one thing, the brand can't stray far without competing with Cadillac on the high-end and Chevrolet for the cheap seats. Moreover, a few years ago it wasn't being compared to much of anything. David Ferraez, who since 1999 has owned a GM dealership in Green Brook, N.J., said drivers considered Buick a dated brand for dated drivers.
"Consumers were saying, 'Me, drive a Buick? You've got to be out of your mind,'" Ferraez said. "In 2009, we were a GMC store that happened to have Buicks, too. That's the way we looked at it."
Buick used that perception to poke a bit of fun at itself in a big ad campaign pegged to the tag-line, "That's a Buick?" It's the norm-core version of car advertising that worked famously. Younger consumers—the ones car companies are desperately trying to connect with—are now choosing Buick. The average age of a Buick buyer has dropped from 65 to 58, in part because of buyers in their twenties.

"When you talk to Millenials about Buick, it's much more of a clean sheet of paper," DiSalle said. "Quite frankly, it was an aha moment for me. I knew immediately we had something very special."

Lyman at TrueCar likens it to baby boomers warming to Asian brands in the late 1970s and early '80s. "There's this pendulum shift that happens generation to generation," he said. "Millennials may not have some of the preconceived notion of what Buick is."
Meanwhile, the recent sales success has emboldened Buick designers. Car companies recently stopped offering convertible coupes, except ones costing as much as a house, so Buick gave a green light to the Casdada. Starting at $33,065, it's a poor man's Porsche. Never mind that people aren't really into convertibles—or coupes, for that matter. Buick likes to be different, it seems.
Ferraez at Green Brook Buick got five Cascada models a few weeks ago. He has one left. "I wouldn't use the word 'easy,'" Ferraez said. "The car business is never easy. But it's more fun than it's been in years."
Before it's here, it's on the Bloomberg Terminal.
LEARN MORE