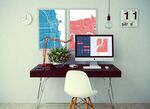 There are many ways to map a big city: by subway lines, by smells, by noises, by bike routes, by neighborhood, by music produced.
But what if you just want to carve out a map of a place—and the specific spot within that place—that represents local pride for you?
The Riga, Latvia-based company GrafoMap, which launched two months ago, makes it possible to do just that. On the website, you can search for any location in the world, zoom in or out to your heart's content, and select one of four filters to create a completely custom print. (You can see how five CityLab editors chose to rep their hometowns, below.)

It's one of those products that's both brilliant and so, so simple. Co-founder Rihards Piks says GrafoMap was inspired by a WordPress plugin, Snazzy Maps, that applies colored filters to the maps featured on the "contact us" sections of blogs. He and his co-founder were fascinated; they spent 10 months figuring out how to adapt the idea to a large-scale poster format using the design tool Mapbox to manipulate images from the OpenStreetMap database.


Piks hopes the maps will show how even the most familiar places can become works of art. "I like how you can look at a map and realize that the layout of the city is actually completely different than what it feels like when you navigate the streets," he said. And that goes for any city, town, or village in the world.
18" x 24" print, $49, at GrafoMap.