Brussels Blasts Push Up Gold as Haven; Lead and Aluminum Decline
By and
Two explosions rock departure hall while third hits subway

Some money flowing out of equities and in to havens like gold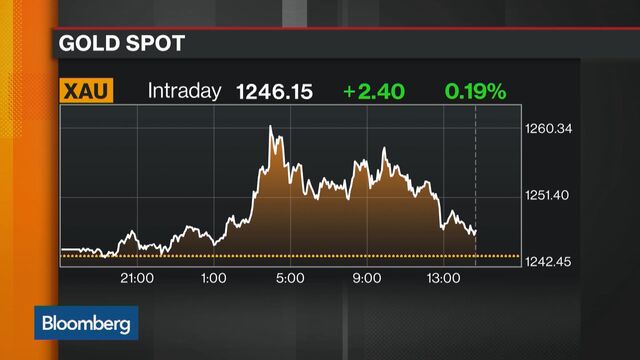 Gold jumped as traders sought a haven after two explosions tore through Brussels airport's departure hall and a third rocked a subway station, causing deaths and injuries. Industrial metals lead and aluminum fell.
The airport was hit in rapid succession during the peak check-in time for morning flights. An hour later, another blast shook a subway station a short walk from European Union headquarters. The explosions come as Belgium was on high alert after the capture in Brussels of Salah Abdeslam, believed to be the only surviving participant of the November terror attacks in Paris.
"Today is the first day equities are down in a few days, mostly because of the terror attack, and a lot of that money is flowing into gold," James Cordier, the founder of Optionsellers.com in Tampa, Florida, said by telephone.
Gold futures for April delivery rose 0.4 percent to settle at $1,248.60 an ounce at 1:49 p.m. on the Comex in New York, gaining for the first time in three sessions. Bullion has rallied 18 percent this year, the best-performing major commodity, as the dollar hovers near the lowest in almost nine months compared with a basket of 10 major currencies.
Lead and aluminum on the London Metal Exchange paced declines in industrial metals and zinc fell from a seven-month high as the deadly Brussels bombings spurred concern over global growth prospects.
In other news:
Copper futures for May delivery slid 0.1 percent to $2.2895 a pound on the Comex in New York. Copper, nickel and tin gained in London.
Investors continued to add to holdings in exchange-traded funds backed by gold. Assets rose 0.2 percent to 1,765.9 metric tons on Monday, the highest since March 2014, according to data compiled by Bloomberg.
Swiss gold exports fell to 93.1 tons in February, the lowest since 2014 and down from 147.8 tons in January.
Silver futures for May delivery rose 0.2 percent to $15.885 an ounce on the Comex. On the New York Mercantile Exchange, platinum and palladium gained.