France, Germany Need to Cooperate on Euro Effort, Villeroy Says
By and
Would be `weak outcome' if nothing happens ahead of 2017 votes

Bank of France Governor calls for euro-area finance minister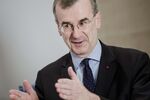 France and Germany need to set aside their differences and take action to strengthen the euro area, Bank of France Governor Francois Villeroy de Galhau said Tuesday.
The 19-nation currency zone needs to move toward "full coordination" of economic policies, with more flexible rules and more uniform take-up of common budget rules, the French central banker said in the text of a speech that he was scheduled to deliver in Brussels. The event was canceled after terrorist attacks. Villeroy also endorsed a common euro-area finance minister, as proposed last year by European Commission President Jean-Claude Juncker.
"On the crucial issue of economic governance for the euro area, France and Germany have not always seen eye to eye," Villeroy de Galhau said.
"To be fair, the French call for Germany to support coordination, and the German doubt about French reforms, have been and are still both well-founded," he said. "A weak outcome would be that nothing would happen before the French and German elections of 2017."
The European economy has struggled to recover after a financial-sector crisis that led five euro-area nations to seek bailouts. The European Central Bank has embarked on a new salvo of extraordinary measures to try to jump-start growth, while nations continue to disagree over what measures to take to strengthen banking union and improve the bloc's fiscal guidelines.
Villeroy de Galhau said nations shouldn't give up despite their differences.
"The highly political nature of the debate should not hide the strong economic rationale for such a reform," he said. "There is room for an intermediate level of integration, which I would call 'full coordination of national policies,' a presently missing link between integration, as we have for monetary policy decision-making, and rule-based surveillance such as is currently the case for national fiscal policies."
Villeroy de Galhau said national authorities have lacked the capacity to mitigate large shocks in the context of the monetary union. He called for a central post to improve coordination, saying "the expected dynamics between peer pressure and market discipline did not work" during the crisis because markets didn't believe there wouldn't be any bailouts, and because nations didn't accept the pressure from their peers.
This calls for a formal setup to press for coordination, even as many areas stay decentralized and "euro area outcomes will remain dependent on national policies," Villeroy de Galhau said. "In a decision phase, the euro area finance minister would propose a strategy, consisting of the collective objective and – as far as necessary – its country specific translations in terms of reforms and policy stance."