Fonterra Speeds Dividends to Support Farmers as Profit Soars
by
First-half profit more than doubles to NZ$409 million

Fonterra sees milk prices starting to improve later this year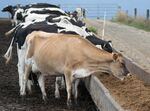 Fonterra Cooperative Group Ltd., the world's biggest dairy exporter, is bringing forward dividend payments to help struggling farmers in New Zealand after first-half profit more than doubled.
It will pay an interim dividend of 20 New Zealand cents a share in April, up from 10 cents last year, and another 20 cents in two installments in May and August, taking the total for the financial year to 40 cents, the Auckland-based company said Wednesday. First-half net income surged 123 percent to NZ$409 million ($276 million) as lower milk prices saw raw material costs fall.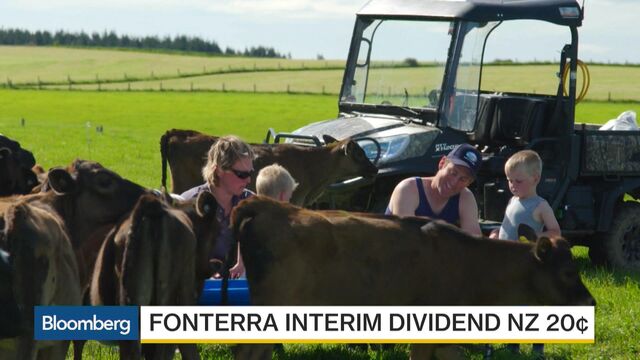 "The months May through to August are typically the most difficult financially for farmers, with lower forecast milk payments in these months," Chairman John Wilson said in a statement. "Bringing forward payment of the total forecast dividend is the best way we can support our farmers while continuing to retain the financial strength of Fonterra."
The central bank estimates 80 percent of Fonterra's 10,500 New Zealand dairy farmers will operate at a loss this season after a global glut saw the forecast milk payout drop to a nine-year low. The global imbalance between supply and demand is likely to continue in the short term, Fonterra said Wednesday.
Earnings Surge
While low milk prices are a blow to New Zealand's economy, they help Fonterra boost profits by reducing the cost of making value-added products such as cheese. The company said first-half normalized pre-tax earnings surged 77 percent to NZ$665 million even as revenue declined 9 percent to NZ$8.8 billion.
Shares in the Fonterra Shareholders' Fund, a publicly traded trust that tracks the cooperative's dividend payout and earnings, rose 1 cent to NZ$5.94 at noon in Wellington.

"The higher and earlier dividend payments will help ease farm cash flows to a degree," said Nathan Penny, rural economist at ASB Bank Ltd. in Auckland. "But at the current juncture, it may not be enough to improve the very weak dairy sector sentiment -- that will have to wait for a material improvement in the milk price."
Earlier this month, Fonterra cut its estimated milk payment for the 2015-16 season to NZ$3.90 a kilogram of milksolids, a forecast it reiterated today. With the 40-cent dividend, the overall payment to farmers will be NZ$4.30 this season, compared with an overall distribution of NZ$4.65 last season and a record NZ$8.50 the season before that.
The Reserve Bank of New Zealand estimates farmers on average need a payout of NZ$5.30 to break even.
Milk prices are "expected to lift later this calendar year," Fonterra Chief Executive Officer Theo Spierings said today. "The long-term fundamentals for global dairy are positive with demand expected to increase by 2 to 3 percent a year due to the growing world population, increasing middle classes in Asia, urbanization and favorable demographics."
Before it's here, it's on the Bloomberg Terminal.
LEARN MORE