Clooney Spars With Maldives in Test for Emerging Democracy
by
Lawyer has warned that Islamic State is recruiting in Maldives

`We are cornered': Maldives government on publicity campaign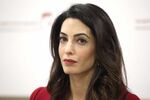 The Maldives, known for its luxury villas atop turquoise waters battling rising sea levels, has become the center of an increasingly high-profile international political spat that's pitted human-rights lawyer Amal Clooney against the country's leader.
Clooney is representing former President Mohamed Nasheed, who was convicted last year on terrorism charges she calls "bogus." The Maldives government says the charges aren't political and Nasheed must serve time for throwing a criminal court judge into jail during his presidency that ended in 2012.
The public-relations battle is marring the image of the tiny moderate Islamic island nation, which transitioned to democracy in 2008 after three decades of rule by a single leader. The outcome risks hurting essential tourism revenues and leading to political instability in a nation with pockets of extremism that has produced recruits for the Islamic State.
International Pressure
So far, the controversy hasn't made much of a dent in the country's main industry: tourist arrivals surged 15 percent last year, recovering from a 1.2 percent downturn the previous year, according to data from the Ministry of Tourism. 
But Clooney -- the spouse of American actor George Clooney -- and her colleagues appear to be chalking up wins in the court of international public opinion.
A U.N. panel called for Nasheed's release in September, while the European Parliament passed a resolution in December asking the EU to impose asset freezes and travel bans on top Maldivian officials and businessmen. Under diplomatic pressure from India, Sri Lanka, the U.S. and European Union, President Abdulla Yameen's government agreed to release Nasheed for 45 days in January to travel to London for spinal surgery, Clooney said.
Clooney's portrayal of the Maldives as an authoritarian regime is too simplistic and risks hurting the economy, according to Michael Kennedy, a former detective based in Sydney who teaches an ethics and human rights program for Maldivian police, customs, and immigration officers.
"Vibrant Democracy"
"This isn't a backwater banana republic," Kennedy, a professor of international affairs at Western Sydney University, said by phone. "It's a vibrant democracy arising from a moderate dictatorship. For all of the negative publicity, it's a safe place and a liberal Islamic system."
The charges against Nasheed, a former journalist, date back to January 2012 when his government arrested Chief Justice Abdulla Mohamed after he ordered the release of a political rival. Nasheed's administration invoked national security and asked the military to detain the justice.
The move sparked nightly protests, and a month later Nasheed stepped down to allow his vice president to take over. Nasheed later said he was forced to step down at gun point -- an assertion Clooney publicly reiterates but was dismissed by a 2012 independent inquiry into the events.
The commission, which interviewed 293 witnesses over about five months, concluded that Nasheed voluntarily chose to step down as president and also condemned the arrest of the judge as "unconstitutional and unlawful."
'Idle Gossip'
"A significant problem in getting to the truth has been the level of rumour, suspicion and idle gossip lacking any serious evidential foundation," said the commission, whose members included a retired Singaporean judge and two international advisers nominated by the United Nations and the Commonwealth. "They seem to be the imaginings of people struggling to understand what happened and why."
Clooney, a barrister at Doughty Street Chambers in London, also represented ex-Ukrainian Prime Minister Yulia Tymoshenko at the European Court of Human Rights. She declined to be interviewed, and her firm didn't reply to a request to speak with Nasheed.
Nasheed is a democracy hero who overhauled the country's judiciary and led a climate justice movement, Clooney told a March 18 conference in New Delhi. She said Nasheed wants to return to the Maldives "but not to go back to his prison cell."
Islamic State
"The tragedy of what's happened in that country is it went from dictatorship to democracy, and then it slid back to dictatorship," Clooney said. Human-rights abuses are on the rise and the Maldives on a per capita basis has become "the top recruiting ground in the world" for Islamic State, she said.
"It's shocking," she said. "It's something that should concern all of us."
Yameen's government is feeling the pressure from Clooney's campaign, according to Mohamed Shainee, the minister of fisheries and agriculture who is heading efforts for peace talks with the opposition. It wants the United Nations and the Commonwealth to broker talks, but so far Nasheed's party has refused to join the dialogue until the ex-leader is freed.
"It's very difficult for a developing country to spend a lot of money, all this money on publicity," Shainee said. "We are cornered."
Divided Nation
Shainee said that as many as 35 Maldivians are fighting in the Islamic State conflict, not an insignificant number in a country of 345,000 people. A report published by The Jamestown Foundation in late 2014 said that about 100 Maldivians were believed to have participated in the Syrian conflict, with most joining al-Qaeda affiliate al-Nusra Front.
Still, Shainee said, the government is not aligned with any Islamist parties, and is simply following the rule of law in its treatment of Nasheed.
"Regarding Nasheed, there is no political side to it," Shainee said. "He has confessed to what he has done. He has said he would do it again."
The portrayal of Nasheed as "an innocent victim of political manipulation" fails to bring the two sides closer to a political solution in a nation that is muddling through the early days of democracy, according to N. Sathiya Moorthy, a Chennai-based analyst for the Observer Research Foundation.
"The nation is divided in the middle," Moorthy said. "And the international community has to handle the situation with extreme caution and care. It cannot be seen as partisan."
(A previous version of this story corrected the minister's estimate of Islamic State fighters in 19th paragraph.)
Before it's here, it's on the Bloomberg Terminal.
LEARN MORE