China Stock Rally Fails to Convince Skeptics That Change Is Real
by
Some analysts still worry about China's heavy reliance on debt

`Not much has changed in terms of Chinese fundamentals'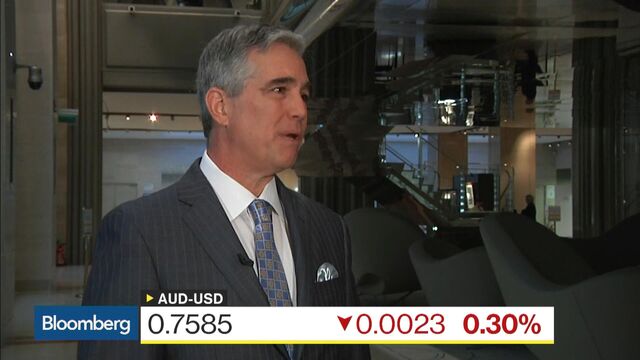 China's stock-market rally since early February is a world away from the market chaos that kicked off the year. Recent statements by People's Bank of China Governor Zhou Xiaochuan about his commitment to financial-market reforms and Premier Li Keqiang's assurances at the conclusion of the National People's Congress that the country will avoid a hard landing have helped improve sentiment.
Yet the feel-good equity rebound rally hasn't yet convinced China skeptics. They question the sustainability of the nearly 13 percent advance in the Shanghai Composite Index since its low on Jan. 28 -- and the Communist Party's commitment to timely reforms that will place China's debt-burdened and decelerating economy on a sustainable growth path.
Anne Stevenson-Yang, co-founder of J Capital Research, a Beijing-based equities analysis firm, sees the rally as more of a "dead panda bounce" than a meaningful market signal that Chinese economic fundamentals have turned a corner. Instead, much of the turn in sentiment can be attributed to cheap liquidity that authorities are pushing into the banking system.
"Behind what looks like recovery in the Chinese economy are massive new injections of liquidity and unrelenting jawboning from the top about the strength of the economy," she wrote in a note to clients.

Michael Shaoul, chief executive officer of Marketfield Asset Management in New York, hasn't yet seen convincing evidence that the Chinese government is ready to let markets play a bigger role in the economy by pulling back on widespread intervention in the stock and currency markets, allowing more foreign direct investment or shutting down unprofitable and debt-reliant state-owned enterprises.
Control Question
"The authorities have an opportunity to reset policy in a way that rebuilds faith among investors," Shaoul said. "But this will require giving up control of the too many levers of intervention that they currently maintain."
Once lauded for their technical competence, China's policy makers came in for repeated criticism after a bungled response to a stock market rout that erased $5 trillion in value last year and a surprise devaluation of the yuan roiled financial markets around the world.
At the just-completed annual NPC legislative sessions, top leaders outlined a more flexible growth target of 6.5 percent to 7 percent while signaling a determination to take a wrecking ball to over-capacity in the bloated coal and steel industries, potentially putting millions out of work. To ease the sting, China will open its fiscal floodgates, planning a budget deficit amounting to 3 percent of gross domestic product in 2016, wider than last year's 2.3 percent. While promising tough reforms, the government has also made clear it will do all it can to avoid mass unemployment.
That will be a delicate balancing act for Chinese leaders. For the moment at least, they no longer have to cope with a gyrating stock market. The government has just loosened controls on margin lending in the stock market in an effort to keep the rally going.
That said, Chinese financial authorities continue to periodically intervene in the stock market with state purchases of big publicly listed companies. The yuan's stability is related more to a weakening dollar, rather than renewed confidence in government policy, as investors trim expectations for Federal Reserve interest-rate increases.
Policy Pressures
"With the dollar weakening recently it has removed pressure on Chinese outflows" and the yuan, said Alex Wolf, an economist for emerging markets at Standard Life Investments Ltd. in Edinburgh. "This has helped to restore market confidence and alleviate pressure on domestic monetary policy."
The fragility of the yuan's stability was highlighted Monday, when two Fed officials said interest-rate increases may be warranted as soon as the central bank's meeting next month, citing solid readings on the U.S. economy.
A renewed dollar rally would pressure the yuan lower, which would probably accelerate capital outflows that reached $1 trillion in 2015 and forced the government to burn through its foreign-exchange reserves at a record pace.

If things go wrong in Chinese stock and currency markets, the worry is that the Communist Party will revert to an old playbook of debt-fueled infrastructure spending to boost growth -- casting aside plans to shutter unprofitable state-owned companies and implement reforms such as allowing freer cross-border money flows.
The world's second biggest-economy is showing few signs of traction, despite being awash in cheap money amid record-low interest rates. Retail sales, exports and industrial output have all disappointed while factory prices remain mired in deflation. 
Promises by the government to avoid a hard landing through increased borrowing and spending have prompted fears that China is ducking tough reforms in favor of a sugar hit to growth. It's also raised questions about China's commitment to tackling a swelling debt pile that has grown to around 2.5 times the economy's size. The risky level of borrowing prompted a warning from central bank governor Zhou that credit will need to be kept in check.
After growing by the slowest pace in 25 years in 2015, the economy's slow start to 2016 signals that volatility could flare up again, said Wolf of Standard Life.
"Not much has changed in terms of China's fundamentals and Chinese demand," he said.
Before it's here, it's on the Bloomberg Terminal.
LEARN MORE