China's Great Wage Boom Is Starting to Fade
Bloomberg News
Economists forecast jobless rate rising to 5.3%-5.5% from 5.1%

Weaker wage increases could undermine shift toward consumption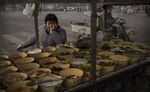 Rapid wage gains in China that began after the 2009 global financial crisis have begun to fade as the economy slows, and that could create problems for officials trying to boost domestic consumption.
Income increases for migrant workers will fall below 7 percent this year, down from a 7.2 percent rise in 2015, according to nine of 12 economists surveyed by Bloomberg News this month. The findings follow an announcement by Guangdong province, China's biggest exporter and one of the biggest destinations for rural job seekers, that it will freeze minimum wages for two years.
A slower rise in labor costs could make Chinese companies more competitive while also helping employers weather structural reforms that Communist Party leaders pledge will address excess capacity in the world's No. 2 economy. Authorities under the previous administration had championed wage gains as a way to stoke domestic demand.
"China's fairly pragmatic policy makers have recognized the limits of things like minimum wage increases," said Louis Kuijs, chief Asia economist at Oxford Economics in Hong Kong. "You cannot expect wage growth to continue to power ahead if business conditions and profit developments are weaker."
Softer Spending
Consumers also won't spend as freely, according to the survey. Six economists said they see average disposable income rising 6.5 to 6.9 percent this year, compared with a 7.4 percent increase in 2015. Four forecast a rise of 7 percent to 7.4 percent.
Jobs, income and the "new normal" of slower economic growth were among the top agenda items for the Chinese congress meeting earlier this month in Beijing and again this week on the southern island of Hainan, where policy makers are gathering for their annual Boao Forum. Premier Li Keqiang set a target to create 10 million jobs this year, the same goal as the last two years.
Even with smaller pay rises for workers, economists still forecast an increase in joblessness in China this year. The urban unemployment rate will rise to 5.3 percent to 5.5 percent in 2016, up from about 5.1 percent last year, seven out of 12 economists said in a Bloomberg survey.
"For all the talk of the new normal, the implicit promise is that things will get better," said Pauline Loong, managing director at Asia-Analytica Research in Hong Kong. "But look at wages growth – or the lack of it. With even big bank profits down, where is the room for wage growth? The big state-owned enterprises are not making money either."
Fewer Workers
The projected weakening of the job market is notable because China has a shrinking labor force, something that otherwise would typically lead to companies having to pay more to attract the workers they need.
Wage growth has been held down by salary freezes, most recently in Guangdong, China's most populous province with 107 million people and a $1.1 trillion economy. The provincial government said last month it will freeze the minimum wage for two years to help companies cut labor costs. The three provinces in the northeast rust belt, Heilongjiang, Liaoning and Jilin, haven't raised their minimum wages since 2013.
Seven economists said migrant worker wage growth will decelerate to 6.5 to 6.9 percent this year, while two project that it will fall below 6.5 percent.
Average monthly wages for China's 277 million migrant workers rose 7.4 percent last year to 3,072 yuan ($473), slower than the 9.8 percent gain in 2014 and 13.9 percent in 2013, National Bureau of Statistics data show. The most recent data for wages for all Chinese workers show they grew 9.5 percent in 2014, the slowest pace since at least 2000.
"Subdued exports and construction will keep depressing migrant worker wages," said Harrison Hu, Chief Greater China economist at Royal Bank of Scotland Plc in Singapore. "Lowering corporate costs is a priority now."
Five out of the 12 economists surveyed by Bloomberg, including Hu, said income growth will be less crucial for policy makers, while the other seven said boosting wages will remain a priority for officials.
"The Chinese government faces a difficult balancing act," said Rajiv Biswas, Asia-Pacific chief economist at IHS in Singapore. "Does it allow rapid wages growth to support consumption-led GDP growth or prevent buoyant wages growth from steadily eroding export competitiveness and fueling rising labor costs?"