Canada Budget Stimulus Gives Poloz Reason to Pause on Rates
Theophilos Argitis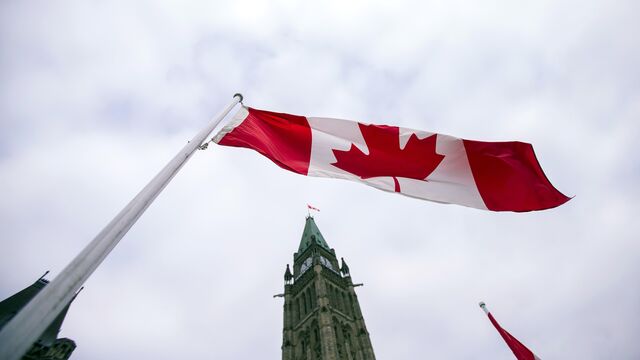 Prime Minister Justin Trudeau's budget gives the Bank of Canada one less reason to cut.
Stimulus measures announced today in Prime Minister Justin Trudeau's first budget will boost the economy by about 0.5 percent this year, according to finance department estimates, a lift that means the central bank may need to revise its growth forecasts higher in coming months. That only bolsters the case for interest rates remaining unchanged at the current 0.5 percent.
"For anyone that was looking for a cut, it may hold them back," said Craig Wright, chief economist at Royal Bank of Canada. "It suggests an upward revision to the Bank of Canada" outlook, he said.
Speaking to reporters after the Jan. 20 rate decision, Governor Stephen Poloz cited the expected stimulus plan from the federal government, along with concern about the recent rapid decline in the currency, as reasons for holding off from cutting borrowing costs. That decision prompted investors to pare bets of lower rates and fueled a rebound in the Canadian dollar.
The fiscal stimulus adds to other factors that are improving the growth outlook, including a partial recovery in the price of oil, one of the country's largest exports, stabilization of global financial markets and recent economic data that suggest manufacturing and exports are benefiting from a weaker dollar.
Odds of a rate cut in 2016 have fallen to about 25 percent, from double that in January, according to Bloomberg calculations on overnight index swaps. Yields on Canadian two-year bonds have almost doubled since January to 0.56 percent, narrowing spreads with equivalent-maturity U.S. debt to 31 basis points, from as high as 59 basis points.
The central bank, which has kept borrowing costs unchanged since cutting them twice last year, estimates growth of 1.4 percent in 2016 and 2.4 percent in 2017, without taking into account additional stimulus.
In December, as commodity prices continued to slide, the central bank outlined the potential use of extraordinary measures to bolster growth if needed, including using negative interest rates as a tool to bring the economy back to its capacity.
"In a nutshell, it's hopefully sufficient to stop us from going down the rabbit hole of negative interest rates," Warren Lovely, an economist at National Bank of Canada. "The support for the economy may just be sufficient to get Canadian growth back to and slightly above potential in the coming two years and that's a critical distinction for the central bank."
The budget's impact on the economy is largely being driven by new funding for infrastructure and additional benefits for families with kids. The federal budget allocates C$11.6 billion in new cash for the fiscal year that begins April 1 and C$14.9 billion in 2017. Using so-called fiscal multipliers to analyze the impact on growth, the finance department estimated the level of real GDP would rise by 0.5 percent in 2016 and by one percent by 2017.
Jean-Francois Perrault, chief economist at Bank of Nova Scotia, says the new stimulus may even prompt the central bank to consider raising rates.
"If the bank actually believed growth will be revised up
0.5 percent this year, and 0.5 percent the year after, it would have to question whether or not current policy is appropriate," Perrault said.
The increased growth will translate into 43,000 new jobs in 2016 and 100,000 new jobs in 2017, according to the budget.
The finance department estimates a multiplier of 0.9 in 2016 for infrastructure and 0.8 percent for transfers to modest-and-low income households. The multiplier assumptions are in line with a similar analysis the federal government provided in its 2009 stimulus budget.
Before it's here, it's on the Bloomberg Terminal.
LEARN MORE