Bay Street Happy With What Trudeau's First Budget Didn't Do
by
Debt-to-GDP ratio seen staying manageable amid spending boost

`I'm relieved they didn't do anything to oil and gas'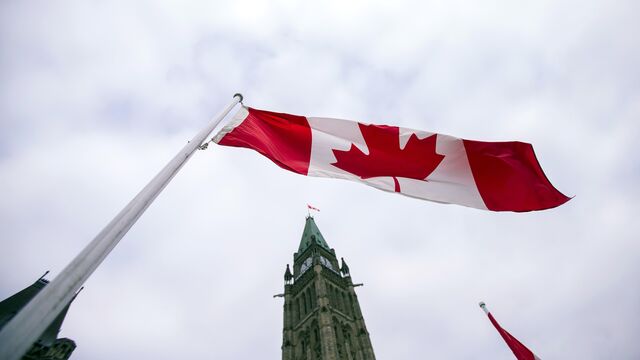 Initial reviews are in for the debut budget of Canadian Prime Minister Justin Trudeau, which includes record borrowing to push deficits to almost C$120 billion ($92 billion) over six years to pay for billions in investments on infrastructure, child benefits and the environment. Bay Street and corporate Canada seem to be pleased with what Trudeau didn't do -- namely increase taxes on stock-option benefits, raise the debt-to-GDP level too high, or implement new measures for the struggling oil and gas industry.
Deficit Spending
"In terms of the debt-to-GDP ratio, 32.5 percent is on the low side versus what other developed markets are doing in the U.S., Japan and Europe," said Frank Maeba, managing partner at Breton Hill Capital Ltd. in Toronto. His firm manages about C$1.4 billion. A lot of the economists worried Trudeau would repeat the big-spending years of his father Pierre Elliott Trudeau, he said. "Interest payments aren't as damaging. I'm not as fearful of pushing that number even higher."

"There is some comfort the debt-to-GDP ratio is expected to peak" by 2017 and then remain stable or trend lower, Kurt Reiman, chief investment strategist at BlackRock Canada, said on the phone from Toronto. 
"The fact that there is no plan of when we'll return to a balanced budget to me says that we don't have any real idea of what kind of return we should expect on this spending," said Kash Pashootan, a fund manager at First Avenue Advisory of Raymond James Ltd., on the phone from Ottawa. His firm manages about C$230 million. "We're spending C$30 billion -- that's more than enough money to put us in decades of playing the catch-up game unless we see a return on that."
Bonds
Darcy Briggs, a portfolio manager at Franklin Bissett Investment Management in Calgary, said he was surprised Finance Minister Bill Morneau is concentrating on issuing short-duration bonds. "I would have thought they would have issued long-duration securities. If you are doing infrastructure spending, match your assets with your liabilities," he said. "You should issue 50-year paper because we have the cheapest yields in a generation. It doesn't get any cheaper than that. So their focus on the short end is surprising. There are risks with that."
Loonie

"Now that the federal government is also taking some responsibility to shoulder some of the growth in Canada, it's supportive in the near-term for the Canadian dollar," said Bipan Rai, director of foreign-exchange strategy in Toronto at Canadian Imperial Bank of Commerce's CIBC World Markets unit. "You've got a lot of supply coming onto the market which is putting some upward pressure on domestic yields," Rai said. "Beyond today you should see some stabilization in some of the volatility that we're seeing in yields. The momentum is for a flatter curve."

Stock Options
Blackrock's Reiman was pleased the government made no move to increase taxes on stock-option benefits. "You aren't going to get a productivity boost without a knowledge boost, and to the extent that start-up businesses, venture capital, they compensate their employees with stock options, it may be the wrong time to introduce a new tax," he said.
Infrastructure


"Spending will be staggered over 10 years, with the lion's share of spending back-ended to allow sufficient time for planning and consultation," Ian Russell, chief executive officer of the Investment Industry Association of Canada, said in a statement. "This ensures the optimal projects will be funded, resulting in a more productive Canadian economy."
"There were expectations of front-loading, but I think they're taking a more measured approach with it so it is slightly disappointing," Breton Hill's Maeba said. "It is still a big spend over the entire period so I view it as a positive in the longer term, rather than trying to do it all in the first year or two. I'm sure the pensions out there in Canada will want to invest alongside."
"We would conclude that investors will be disappointed in the infrastructure spending details, or lack thereof," said Ian de Verteuil, head of portfolio strategy and quantitative analysis at CIBC World Markets, in a note to clients. "While the programs may turn out to be completely consistent with market expectations, the plans presented appear to be less well-defined and more distant."
Oil and Gas
"I'm relieved they didn't do anything to oil and gas exploration," said Mason Granger, a portfolio manager at Toronto-based Sentry Investments, in a phone interview. The budget didn't introduce proposed policies seen as unfriendly toward investment in the beleaguered energy industry, he said in a phone interview. He was referring to Trudeau's campaign pledge to change tax rules for oil and gas exploration so that expenses would only be deducted in the case of drilling a dry hole; the budget had no mention of the issue.
Before it's here, it's on the Bloomberg Terminal.
LEARN MORE