Ackman Said to Address Valeant Workers Side-by-Side With Pearson
by and
No widespread layoffs, Pearson tells employees at town hall

Drugmaker looking for successor with industry experience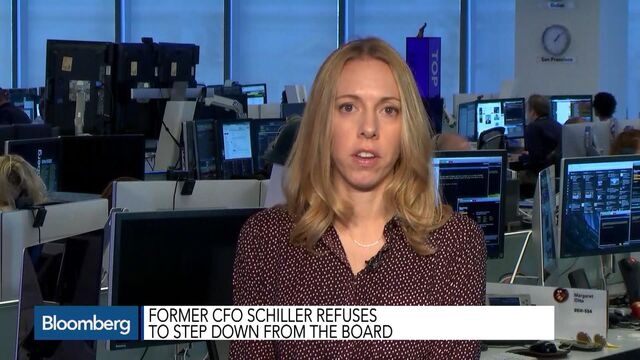 Hours after Valeant Pharmaceuticals International Inc. announced that Chief Executive Officer Mike Pearson would step down, the CEO stood side-by-side with billionaire investor Bill Ackman and addressed workers at the drugmaker's New Jersey offices, according to people in attendance.
In a town-hall meeting with 700 to 1,000 employees, some standing, Ackman, Pearson and Valeant Chairman Robert Ingram answered questions and made proclamations about the company's future: Valeant must pay down debt quickly but won't sell core assets, there won't be widespread layoffs, and that the company is looking for a successor to Pearson among a shortlist of potentials with relevant drug industry experience and integrity.

Ackman's Pershing Square Capital Management LP is one of Valeant's biggest investors, and as of today has two seats on the board. The town hall in the windowed company cafeteria was described by people who were present and asked not to be identified because the session wasn't public.
Laurie Little, a spokeswoman for Valeant, declined to comment, as did a representative for Pershing Square. Valeant has its legal headquarters in Laval, Quebec, and its operational headquarters in Bridgewater, New Jersey.
Asset Sales
At the town hall, Ackman sought to clarify speculation over asset sales including his March 9 comments at the Harbor Investment event in New York that Valeant could consider selling part of its Bausch & Lomb eye-care business to reduce debt.
Valeant has said publicly it would look at selling some non-core assets, but won't sell core businesses. What Ackman suggested was potentially selling a minority portion -- perhaps between 10 and 20 percent -- of Bausch & Lomb in an initial public offering, and using the cash to help pay down Valeant's debt. If that option was pursued, Valeant would retain control of Bausch & Lomb and hold onto the remainder of the company.
While there won't be widespread firings, some units inside Valeant with lower revenues will face cuts while others grow, Pearson said, according to one of the people.
Public Relations
Ackman blamed bad public and investor relations for the almost 90 percent decline in the company's shares since their August peak, and promised to overhaul the company's communications efforts, said the people. Valeant's problems -- where a relatively minor accounting issue snowballed into a massive crisis -- was reputational, not operational, and would be repaired, the men told employees.
Valeant has a been a brutal investment for Ackman. Pershing Square owns 9 percent of Valeant, including 6.3 percent of the company's common shares, making it one of the top three holders. Last week's 61 percent decline in the shares amounted to almost $1 billion in paper losses, according to data compiled by Bloomberg.
It hasn't been easy for Pearson either. He presided over a massive run-up in the company's stock over the last five years, fueled by a long series of acquisitions. Over the last year, however, the company was criticized for the high price of its drugs, was investigated by Congress and by the Securities and Exchange Commission and had to cut ties with a mail-order pharmacy, Philidor Rx Services, that eventually led to the company saying it would restate some earnings.
Pearson went on medical leave in December, then returned last month. Within three weeks of his return, the company pulled its financial projections, then reported weak fourth-quarter results and new guidance that sent the stock down 51 percent in a single day last week.
Before it's here, it's on the Bloomberg Terminal.
LEARN MORE