`Brexit' Camp Is Putting Politics Above Economy, Mandelson Says
by , , and
Asian leaders `mystified' by possible `economic self-harm'

Trying for Norway-style relationship counter-productive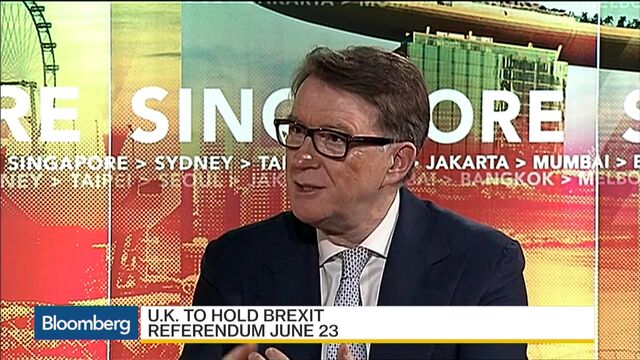 U.K. Conservatives campaigning to leave the European Union are putting supposed gains in sovereignty above the long-lasting economic damage that would follow a so-called Brexit, former Business Secretary and EU Commissioner Peter Mandelson said.
"For them, whatever the economic damage to Britain and Europe as a whole of our leaving the European Union, it would be a price worth paying for the political gain they're seeking of securing what they regard as Britain's independence," Mandelson said in an interview with Bloomberg Television's Haslinda Amin in Singapore on Tuesday.
Mandelson, who served in the cabinets of prime ministers Tony Blair and Gordon Brown and who's been one of the most prominent opposition Labour Party figures supporting continued EU membership, said government officials he met in China and other Asian countries are "completely mystified that Britain should be even contemplating such an act of economic self-harm."
London Mayor Boris Johnson is leading the Brexit campaigners within a divided Conservative Party ahead of the June 23 referendum, putting him directly at odds with Prime Minister David Cameron and Chancellor of the Exchequer George Osborne, who back staying in the 28-nation bloc. The Vote Leave campaign group argues that Britain should "take back control" of its sovereignty rather than "vote for the permanent supremacy of EU law."
Another leading proponent of an exit, Iain Duncan Smith, quit the cabinet last Friday, though he said his move was solely motivated by budget policy, not the EU debate. Mandelson, however, characterized the resignation as an attempt to "torpedo David Cameron's efforts to keep Britain" in the EU.
'Significant Shock'
A Brexit would cause "a significant shock" to financial markets, he said, with uncertainties lingering for years and investment and jobs taking a hit. That echoes a warning from the Confederation of British Industry business lobby Monday that a Brexit might cost the U.K. 100 billion pounds ($143 billion) in lost economic output and 950,000 jobs by 2020.
In a speech in Singapore later Tuesday, Mandelson warned that the U.K. might struggle to rebuild trade ties with the EU if it votes in favor of leaving, with attempts to retain access to the single market along similar lines to Norway and Switzerland -- a model being proposed by some "Leave" campaigners -- difficult and counter-productive.
"The outcome that is best for business continuity and to optimize trade -- the Norway model -- is also the most politically unlikely, because we would have to hand back a large measure of sovereignty to Brussels by agreeing to adopt EU laws -- precisely the reason for leaving in the first place," he said in the speech at the Lee Kuan Yew School of Public Policy. A Norwegian-style arrangement would also mean Britain continuing to contribute to the EU budget on a slightly smaller scale, but without a voice on EU matters. "We would pay without say," he said.
Before it's here, it's on the Bloomberg Terminal.
LEARN MORE