Valeant Ex-CFO's Trip From Goldman Sachs to Drugmaker's Target
By
Drugmaker blames Howard Schiller for `improper conduct'

Ex-interim CEO fires back that he won't resign Valeant board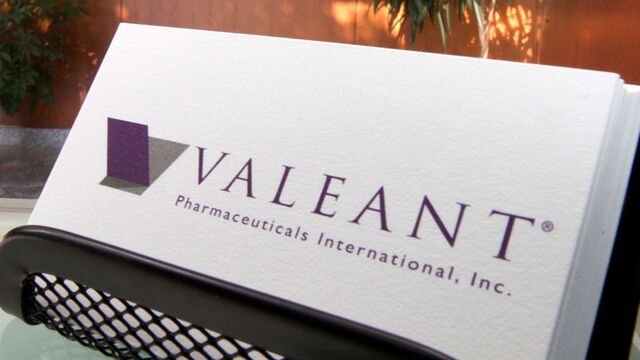 Howard Schiller caught flak in the service of Valeant Pharmaceuticals International Inc. just last month. As interim chief executive officer, he defended the drugmaker to a hostile U.S. Congress at a Washington hearing on price gouging.
Now the company is painting him as a guy who couldn't get his numbers straight.
Valeant on Monday blamed Schiller and another ex-executive for "improper conduct" leading to the pending restatements of financial results for 2014 and 2015, when Schiller was chief financial officer, and asked him to resign the board seat he's held since September 2012.
Schiller said in a statement that he did nothing wrong. He refused to quit.
The brouhaha over whether Schiller is responsible for Valeant's financial confusion and the dilemma over his non-resignation -- what does a company do when a director won't accept the boot? -- only deepen the what'll-they-come-up-with-next atmosphere at the drugmaker. Its string of debt-enabled acquisitions made it Wall Street's darling until last year, when the company's accounting, and its close relationship with mail-order pharmacy Philidor Rx Services, called into question the success of its business model.
"It's a stunning reversal" for Schiller, said Mike Krensavage, founder of Krensavage Asset Management in New York, who's been betting against Valeant shares for months. "One week he's flying on the company's Gulfstream G650 to go skiing. Now he's a villain."
CEO Resigning
"At no time did I engage in any improper conduct that relates to any restatement of revenue the Company is considering," Schiller said in a statement issued by the law firm Winston & Strawn. A request for comment through the firm was not returned.
Laurie Little, a Valeant spokeswoman, said the drugmaker was aware of Schiller's views and stands by what it said in its press release and regulatory filing regarding Schiller's conduct.
In the same announcement in which it denounced Schiller, Valeant said that CEO Mike Pearson would leave the company as soon as a replacement could be found. It was Pearson's two-month medical leave for pneumonia, which ended three weeks ago, that elevated Schiller to interim CEO. The company also said it discovered "one or more material weaknesses" in "internal controls."
Incorrect Information
"The improper conduct of the company's former chief financial officer and former corporate controller, which resulted in the provision of incorrect information to the committee and the company's auditors, contributed to the misstatement of results," Valeant said in its statement, referring to a committee of the board.
Under the Sarbanes-Oxley Act, CEOs must sign off on financial reports alongside company CFOs. A chief executive may be able to lessen any fallout from wrongly attesting to the accuracy of financial statements if he can show that someone else was at fault, said Patrick Cotter, an attorney with Greensfelder, Hemker & Gale in Chicago and a former federal prosecutor.
"If you say you signed the Sarbanes-Oxley attestation and it's wrong, but you have strong evidence that the CFO was lying to the board or others, I'd say you're still in trouble but maybe less trouble," Cotter said.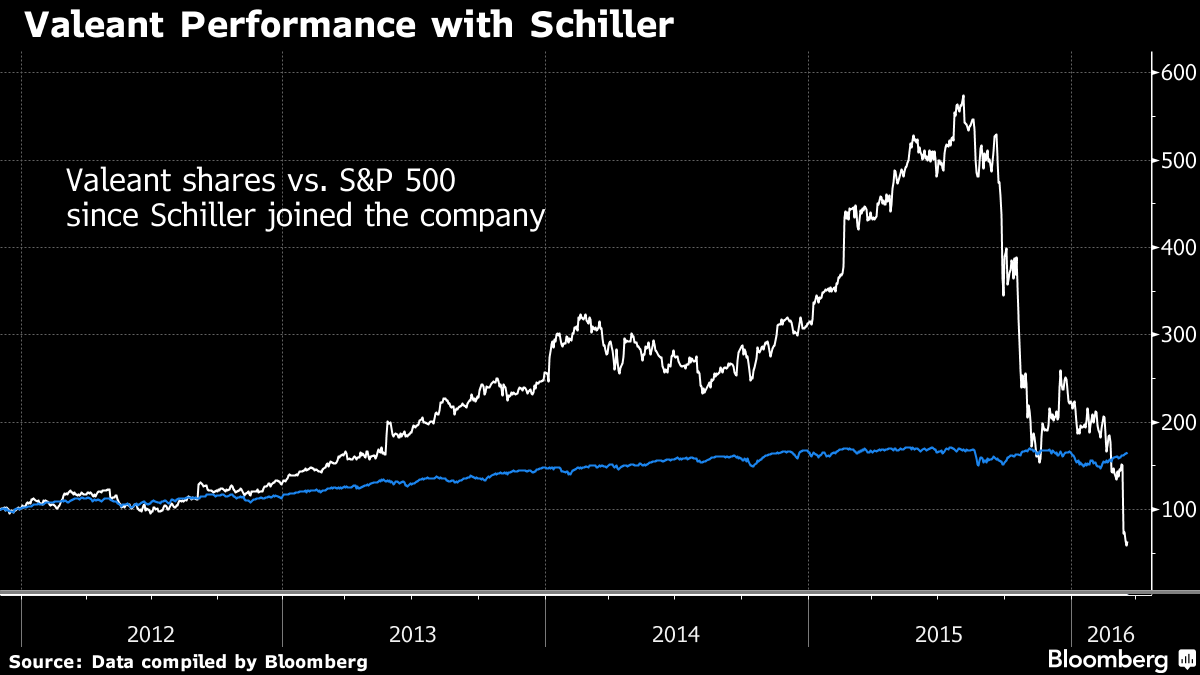 Last month, with Schiller at the helm while Pearson recuperated, the company said that part of its accounting issue was one of timing -- it recorded sales in 2014 that were really made later. When it shipped some drugs to Philidor, the mail-order pharmacy it essentially controlled, it booked those sales. Because Valeant controlled Philidor, that was like shipping goods from one unit to another and calling that a sale, according to S.P. Kothari, an accounting professor at MIT's Sloan School of Management. Valeant said it should have waited until Philidor sold the drugs to patients and disclosed that the sales were made then.
But it wasn't that simple. Even though the company booked sales it made to Philidor in 2014, it counted some of them again in 2015. That meant the accounting flub was not just one of timing, Kothari said. Valeant was double-counting some sales.
Price Gouging
The controversy that prompted Schiller's Feb. 4 congressional testimony was alleged price gouging, though most of the attention that day went to the facial expressions of Turing Pharmaceuticals founder Martin Shkreli. Valeant had purchased two drugs in February 2015 and raised the prices by 521 percent and 212 percent overnight, according to a memo prepared by Democratic staff members on the Committee on Oversight and Government Reform. Committee members wanted to question Valeant on the price increases.
Schiller acknowledged to Congress that Valeant had made mistakes. He explained that "outside pricing consultants" reviewed the market and came to the conclusion "that the fixed reimbursements rates allowed for significant price increases without eliminating the hospital's profits." He added that the Laval, Quebec-based company wouldn't be making similar acquisitions in the future.
"The one good thing that Howard did was he appeared credibly at that congressional hearing," said Ram Selvaraju, an analyst with  Rodman & Renshaw LLC in New York. "I don't think Valeant came off badly, and they could have."
Tax Inversions
It wasn't the first time Schiller represented Valeant in Washington. In July, he testified to the Senate Permanent Subcommittee on Investigation about the company's move to Canada. The context was public anger over tax inversions. Schiller said in a written statement that Valeant was guided by high ethical standards that put patients and customers first.
Schiller's tenure as Valeant's CFO lasted from December 2011 to June 2015. He's served on the Valeant board since September 2012. Before that, he spent 24 years at Goldman Sachs Group Inc., most recently as chief operating officer for its investment bank.
"We do a lot of things different at Valeant," Schiller told a June 2013 health-care conference sponsored by Goldman Sachs. "We always start with the financial returns and then work back. It does make sense strategically."
For the 2014 fiscal year, Schiller received compensation of $27.1 million, including $23.7 million as stock.
Schiller may be forced to return some of that, according to Valeant's clawback policy. The policy allows Valeant to seek reimbursement of compensation if "the company materially restates or adjusts its financial statements," according to its most recent proxy statement. It also applies if the restatement was caused by fraudulent or illegal misconduct and whether or not the executive is still an employee.
"If you were writing TV scripts and made this up, the boss would confiscate your keyboard and escort you outside," Krensavage said. "I don't think this company knows what they're doing."