This Aerospace Company Wants to Bring Supersonic Civilian Travel Back
Boom thinks it can fly you more than twice as fast for the same price as a 777 business class ticket.
By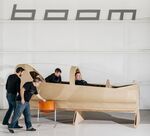 If you're ever stuck on a plane pining for the glory days of air travel, hop on YouTube and search for "the Concorde." Among the results are a bunch of firsthand accounts of people sipping Champagne and scarfing down caviar on one of the bygone supersonic jets while they travel at 1,300 miles an hour. Try to appreciate the joy on their faces, or at least remember that they paid as much as $20,000 round trip, while you're crammed into a middle seat with nothing but a dollop of hummus and a few overpriced crackers to get you through the next few hours.
Or perhaps find some solace in this: A Denver startup called Boom Technology plans to bring supersonic passenger travel back, and to bring it to the masses … ish. While the finished product is years away, on March 23, Boom will unveil its design for a 40-seat plane that can fly 1,451 mph (Mach 2.2). At that speed, a New York-to-London flight would take about 3 hours and 24 minutes. Blake Scholl, Boom's founder and chief executive officer, says round-trip tickets will cost $5,000. "The idea is for a plane that goes faster than any other passenger plane built before, but for the same price as business class," he says.

Scholl, 35, isn't the obvious choice to run a fledgling, high-risk aerospace company. He's a boyish coder and amateur pilot who spent five years at Amazon.com, working on things like automated ad systems, before starting a mobile shopping app maker called Kima Labs. Groupon bought Kima in 2012, leaving him with money in his pocket and a yearning to build something more meaningful than coupon software.
Two years ago, Scholl began brainstorming. He'd been a pilot for almost a decade and was convinced air travel could be improved, so he bought aerospace textbooks and spoke with a ton of experts. "The people we talked to looked over our plan and concluded it is technically feasible," he says. "This is not science fiction."
Buoyed by the positive reception, Scholl ditched Silicon Valley for Denver and started Boom in his basement in September 2014. He even managed to persuade people with aerospace expertise to join him.
In January, Boom moved out of the basement and into a hangar at Centennial Airport, a few miles from the Denver Broncos training facility. There, rich people and hobbyists land their planes and park them amid dozens of rows of beige hangars. (Boom's hangar used to be John Denver's.) The smell of jet fuel wafts through the air while tumbleweeds roll down a runway surrounded by mountains. The place has become home to a handful of startups, including companies working on military projects, electric planes, and vertical-liftoff business jets, because of its proximity to wide-open prairies and open-minded airport officials.
Today, Boom has 11 people, six of them pilots, working in the hangar's upstairs offices. Unlike Scholl, these folks have serious industry bona fides. Joe Wilding, the co-founder and chief engineer, was a standout at three aerospace startups, designing passenger planes from scratch. Andy Berryann, the head of propulsion, used to work at Pratt & Whitney, building parts of the engine for a supersonic fighter jet. Other employees came from NASA, Lockheed Martin, and a Northrop Grumman subsidiary, Scaled Composites.
The Boom engineers say new materials and software made a Concorde replacement viable only in the last 10 years. Their plane will be built using a carbon-fiber composite instead of aluminum, making it lighter and able to travel faster. (Because of the heat generated by intense friction, aluminum softens at speeds higher than Mach 2.) Boom's software can also run millions of computer simulations a day on its designs, so the startup doesn't have to spend months tweaking things in wind tunnels.
According to the simulations, Boom's design is quieter and 30 percent more efficient than the Concorde was. Its 40 seats will be split into two single-seat rows, so everybody has a window and an aisle. To reduce weight, the seats are of the standard domestic first-class variety, so no laydown beds. To cut flight time, Boom's plane will cruise at 60,000 feet, where passengers will be able to see the curvature of the earth, while going 2.6 times faster than other passenger planes. Scholl says about 500 routes fit the craft's market, including a five-hour trip from San Francisco to Tokyo and a six-hour flight from Los Angeles to Sydney.
Inside the hangar, it quickly becomes clear all this remains theoretical for now. The Boom engineers have built a mock cockpit and passenger cabin out of cardboard and plywood. The black leather seats in the cabin came from OfficeMax, and Scholl asked his team to sit in them for a few hours each to experience what the plane will feel like. (It's a bit cramped.) On the floor of the hangar, tape has been laid out to mimic the design of a one-third-scale plane, which Boom says it'll build and fly by the end of next year.

The Concorde failed for a variety of reasons: expensive tickets, sonic booms that nixed overland travel, the slowdown in air travel after Sept. 11. In the years since, the other couple of efforts to build a supersonic commercial jet fizzled, and the conventional aerospace wisdom is that such projects are too expensive and risky. "Very few people really need to be somewhere in three hours," says Jeremy Conrad, a former U.S. Air Force officer who runs hardware-focused venture firm Lemnos Labs. "And have you traveled international business class lately? It's a great experience."
Conrad says blustery Silicon Valley types often underestimate how tough it is to build aerospace hardware that tests the bounds of physics. There are some recent exceptions, though, most notably Elon Musk's SpaceX and Jeff Bezos's Blue Origin. Scholl and his team say a startup has the best shot at a project like theirs, because it can get going without loads of bureaucracy and with relatively little money. To date, Boom has raised $2.1 million and says that will last it through the development stage, though it'll eventually take tens or hundreds of millions of dollars to take a plane to market.
Given the scale it's planning, Boom may have a chance, says Richard Aboulafia, an aerospace consultant at Teal Group. "At 40 seats, that is kind of intriguing," he says. "It's possible that you would have enough routes with enough passengers to justify the development of this plane." He's more skeptical about the research and development costs. Boom says it'll tweak off-the-shelf engines for supersonic flight, but Scholl won't say how. "You kind of design a plane around an engine rather than the other way around," Aboulafia says. "Let me know when we can hear their engine."
Beyond next year's test flight, Scholl isn't providing a time line for regular passenger travel. He says only that a U.K.-based airline he won't name has signed a letter of intent to purchase $2 billion worth of planes when they're ready, and that he'll keep refining the design to make trips way more affordable. "I want to live in a world where you can get anywhere in five hours for $100," he says. "That will take decades, but I think we'll get there."
The bottom line: All-star aerospace startup Boom is working on what it says will be a relatively cheap jet that can fly at Mach 2.2.
Before it's here, it's on the Bloomberg Terminal.
LEARN MORE